For over a decade, Skype has been a world-leading app for video calling. Skype had a vast number of users, even before Microsoft bought it in 2011. The app has been very appealing for windows and mobile screens. It lets you send text-based messages, make voice calls and video calls for free (with limitations).
However, with time, certain issues caused Skype to lose its position as "the only video-calling" app. Some countries like the UAE, Morocco, Bangladesh, and China have either started applying charges on Skype calls or banned it. Users also complained about disruptions due to crashes and low quality. Plus, some people have general mistrust issues with Microsoft.


Skype has stayed with business and workplace for a very long time. But as we are heading towards the end of 2019, our work demands are becoming more advanced, and we require safer, faster, and top-notch tools. If you think Skype is not so reliable for work as you expected it to be, you have several other options for voice, video, and text-only communication. Here are the best Skype alternatives worth considering.
The top Skype alternatives in 2019:
Viber (Web, Android, iOS, Windows)
Viber is the closest VoIP app to Skype with its communication tools and features. Voice and video calls are absolutely free. You can make international calls on your desktop with Viber. International and domestic landline calls cost just above $0.01 a minute. You can send all kinds of documents, files, images, and video messages to anyone using Viber.
Apart from chat and video calling Viber offers unique options of games, public chats, following brands and staying updated with the news while you work.
Our experience using Viber
1. We were unable to edit and view files with Viber.
2. You always need to have a working cell number, even on the desktop, or else you are not able to log in.
3. We found out that we can make a video conference with up to 40 people.
Viber summary
Viber is your regular VoIP tool lacking features for task management.
Calling rates are cheaper than other VoIP tools.
Flock (Windows, Web, Android, iOS, macOS)
Flock has the common features of Skype like audio and video calling, group chat, screen sharing, and more. Other than Brief, we found Flock to have options for managing work as a to-do list and better interface than other tools we checked.
Our experience using Flock
1. The interface design was pretty good. We felt a strong appeal for its parakeet color logo and design.
2. The five-column user Interface appeared easy at first but got complicated as we began to work on more projects.
3. There were technical glitches including loss of search history of messages.
Flock summary
Flock is a better Skype competitor than most of the tools we checked.
The user interface gets complicated with the increasing workload.
The tool would work well for teams if it has better integration options.
Google Hangouts have the same tools and features of communication like Skype. You can chat, make audio or video calls, and call landline and mobile.
Hangouts let you record free hangouts sessions (videos) which you can broadcast on YouTube for absolutely free. Another advantage of Hangouts over Skype is that you do not have to install a software or a third-party app to run it. All you need is your Gmail or Google Plus account to make an account, and you are on the go. With Google Hangout, you can connect with up to 10 people for a video call.
Our experience using Google Hangouts
The notification system is a little tricky making it easy to miss calls.
Lacks useful chat features like searching messages, forwarding, pinning, editing, and deleting.
Google Hangouts summary
Video/Audio call features are great.
Not suitable for instant text communication. Lacks useful chat features.
The tool lacks effective communication and better sharing options of the work files
Brief (Windows, Android, iOS, macOS, Web)
Our product is not as old as Skype and the other competitors, but its reliability is second to none. After working hard on, to make Brief a must-have tool for business, we tested it out ourself.
Unlike Skype, it provides to-do list features for planning and managing your tasks and team hubs to organize and distribute projects among the team, which is tiringly difficult to achieve in group chats. Plus it is a connection tool for you and your team unlike Skype and other VoIP tools where anyone can contact you and disturb you during work.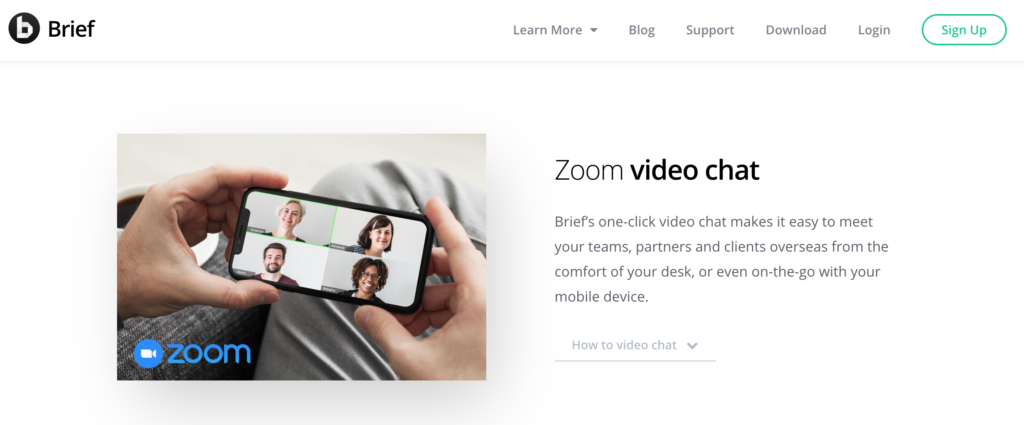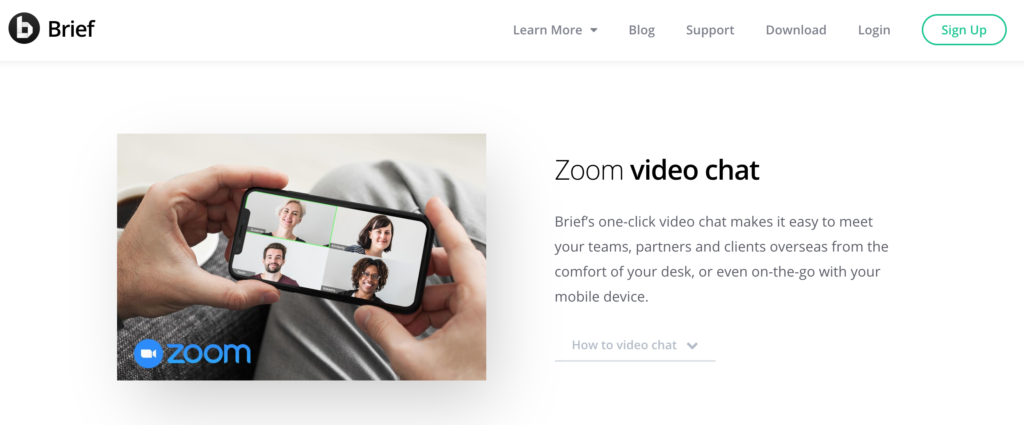 We found the one-click video zoom chats instantly to connect with colleagues and clients abroad. The interface is user-friendly, and the performance is very smooth and fast. Brief has an exclusive design providing solutions to your tasks and team management needs.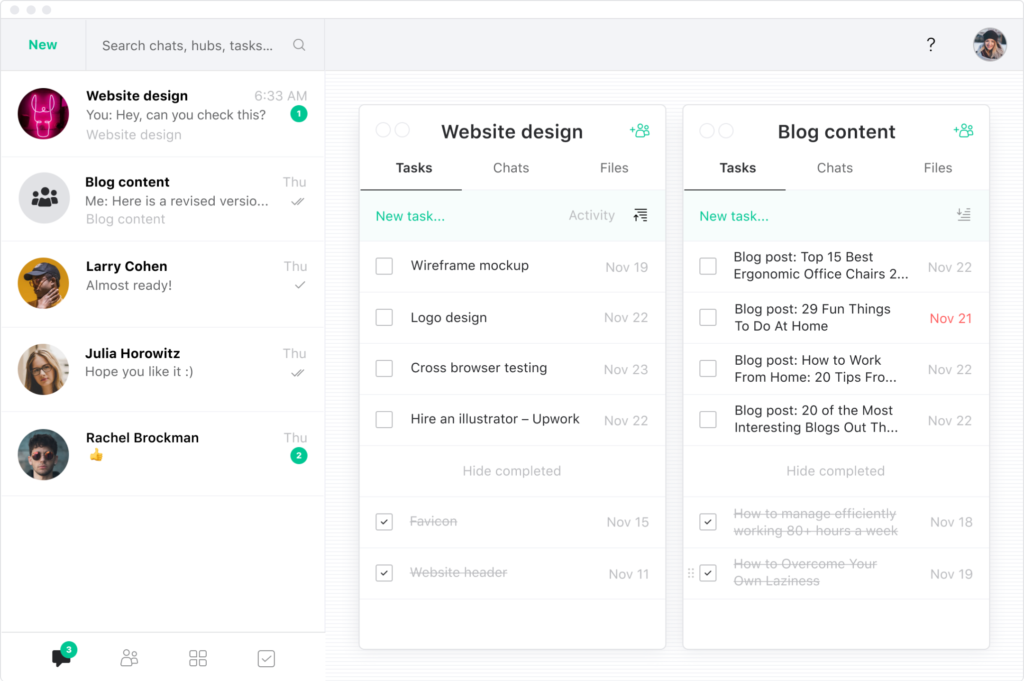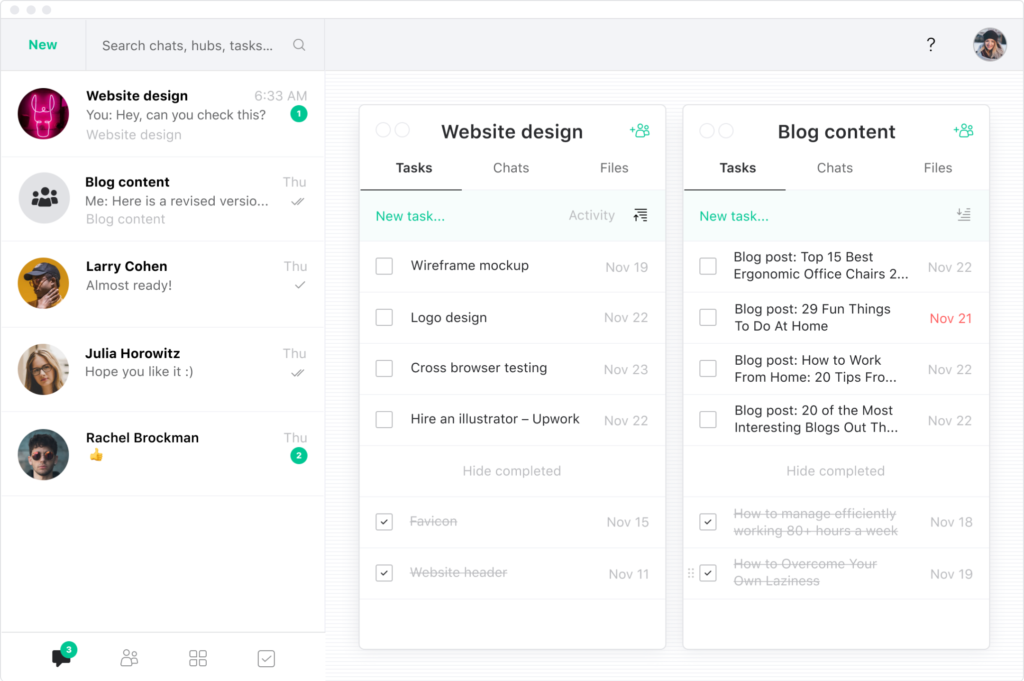 You necessarily do not have to download the app or sign up to connect with your colleagues. If you are iOS user, you have to download the Appear.in app and then you can enjoy free text chats and video.
To use Appear.in you have to visit its website or launch the iOS app. Then you need to create a 'room' link to share with people you are going to chat with. When the recipient opens the shared link, they will be able to access the room link in their browser. In the chat room, you can choose from any of the communication options, text messages, voice call, or video call.
Our experience using Appear.in
1. We found Appear.in to offer the simplest way of making a video call.
2. The add-ons stickers are quite fun to chat with colleagues.
3. We faced the same problem as other tools. You can't search and edit messages and exchange files through chats. No features for tasks management available.
Appear.in summary
Very easy and slick video conferencing.
Chatting is not instant.
It is more of an alternative of Google Hangouts than Skype.
Talky (Web, IOS)
Talky is similar to Appear.in for providing video calls and group video calls without downloading the app. The user will pick a room name and share the URL with their contacts. Plus it is also easy and user-friendly. You can also make international and domestic calls with Talky. Talky can support group video call of up to 15 users. To make your room chat more private, you can lock it and limit the access.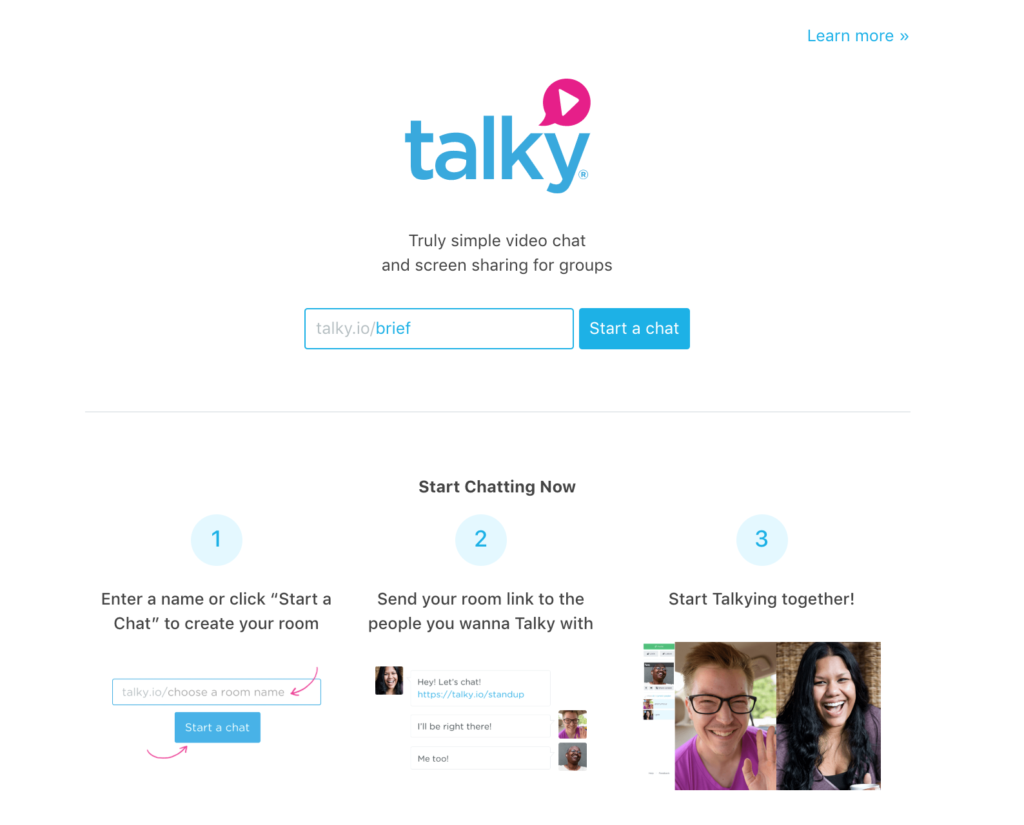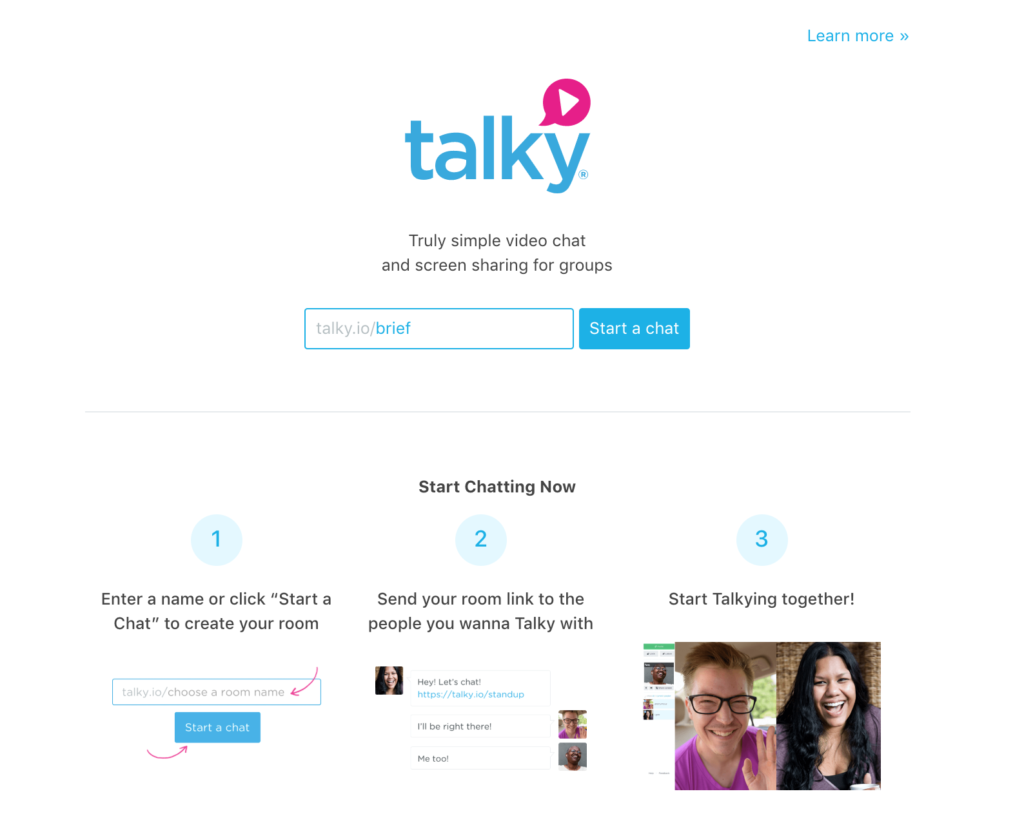 Our experience using Talky
1. Talky has a user-friendly interface.
2. It lacks options for editing, searching, and forwarding messages. We were unable to exchange zip files.
Talky summary
It is a regular VoIP tool for video conferencing and chatting but lacks tools and features for the workplace.
The downsides are all the same as that of Appear.in.
Jitsi (Web, iOS, Android, macOS, Linux)
Jitsi has strong privacy codes than most of its competitors. The app code deeply inspects for any malware, data logging, cookies, or trackers. It is the best choice when your business has privacy as its topmost priority. But the web version of Jitsi is an open-source and do not have privacy options. Jitsi allows video conference calls up to 15 users. You can share docs, images, videos on Jitsi. The tool also provides an interface in Spanish and Portugees.
Our experience using Jitsi
1. The tool is user-friendly as it has no complicated technical features. People with limited technical knowledge can single-handedly set up and use Jitsi.
2. There was a delay in audio from the other side, once in a while.
3. Messaging and video conference is instant on different platforms.
Jitsi summary
Other than the web version, tool app is very secure to use.
User-friendly interface, also available in Spanish and Portuguese.
Voice quality and calling features lag a little behind the competitor tools.
Bottom Line
There are several apps and software that are good Skype alternatives for video calling and chatting at the workplace. But if you need a tool which allows you to manage your work, communicate with the team, and increase workplace productivity, then Brief is your perfect choice.