Clearly, you're here because you value your time and want to achieve more in your daily life.
But with the immense amount of productivity apps available today – all with the noble purpose of saving you time and keeping you focused – it's ironic the amount of time you spend looking for the right app.
Search no more! Here is a comprehensive list of the best productivity apps and tools available.
Whether you want to save time by eliminating junk from your inbox, find a better way to chat with your coworkers, or discover an effective way to avoid online distractions – you'll discover it here.
Let's get right to it and explore the Best Productivity Apps of 2018:
Chat and Task Management Apps
Brief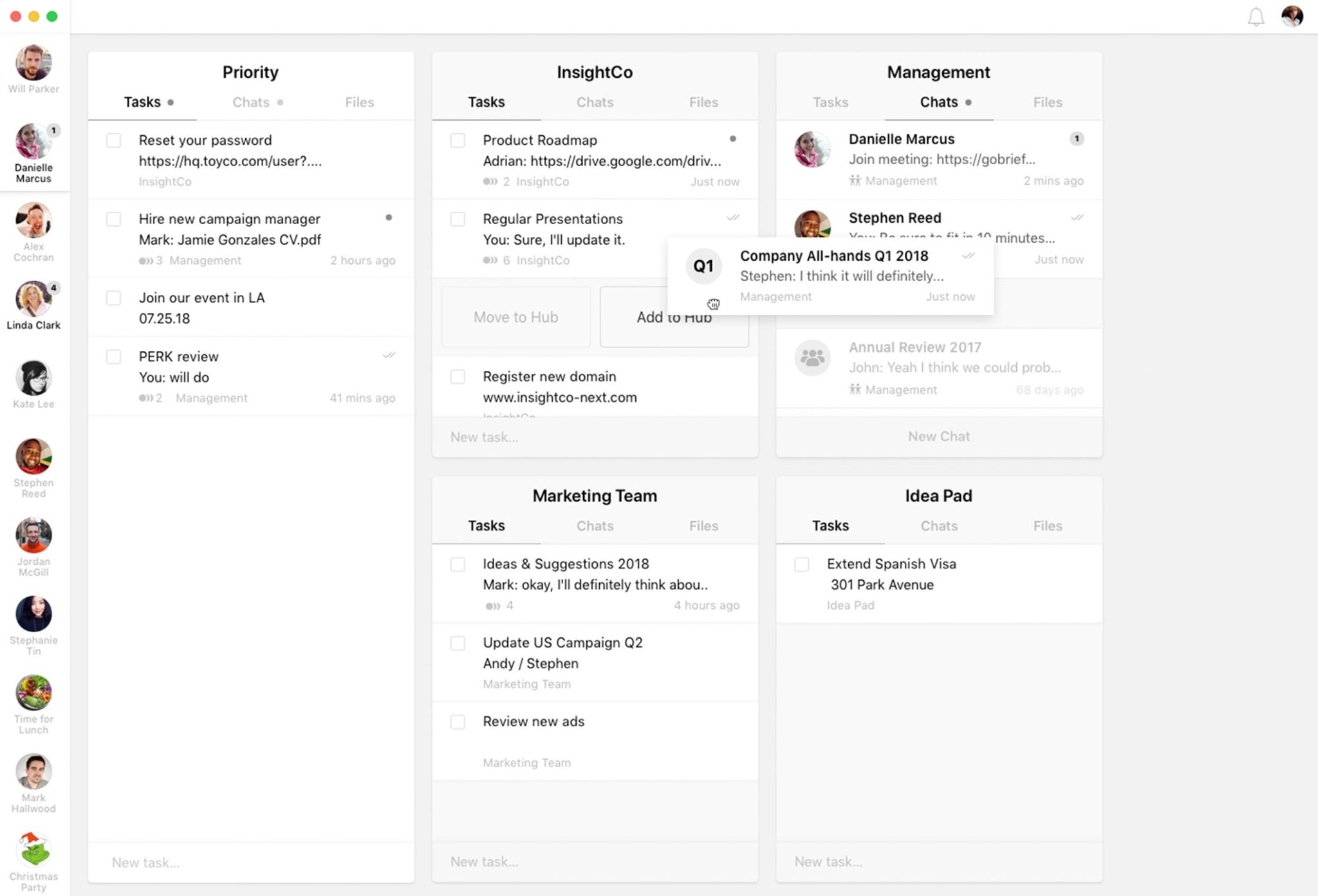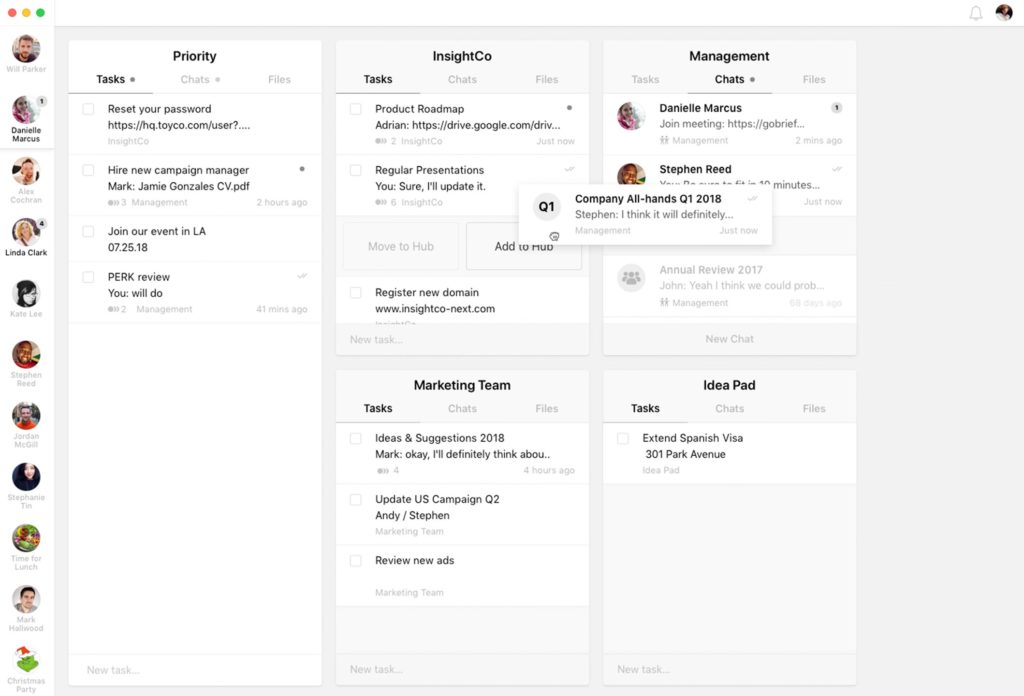 Brief is a chat and task management tool for businesses. The app is clean and clutter free, making adoption seamless. Brief provides teams with a central place to chat about current projects, share files, brainstorm, and conduct video conferences. The app removes the need for drafting emails, as your team is all in one place, making real-time communication feasible and faster.
While Slack can be better for large companies that require enterprise control, Brief is ideal for small businesses or even freelancers who need to communicate with their clients. Teams typically use Brief to discuss and share files in one central location, known as their "hub."
Brief offers users the ability to turn conversations quickly into Task items. This ensures ideas or action items are not lost in a conversation thread, but it's saved in a separate tab for following up. Brief integrates messaging, tasks and video calls into one product, making it a great value.
Slack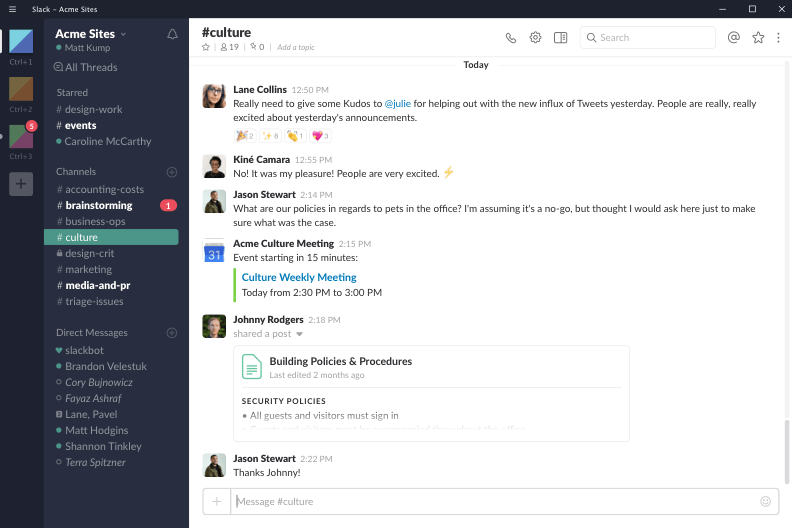 Slack is a team messaging app with a generous collection of options and features. The product is designed to facilitate real-time conversations across teams. The app has over 8 million daily users, making it the most popular messaging tool for business. However, it can be a bit overwhelming for new users.
Slack offers a free plan and two paid subscription plans. Slack Standard is $8 per person per month, while Slack Plus costs $15 per user per month or $180 per person per year. The free plan caps total storage at 5GB per team and limits search history, making it difficult to use to the fullest without paying. Slack is ideal for large companies who require various "channels," which are topic-focused chat rooms. Channels are distinguished by hashtags. It integrates easily with other tools such as Trello, JIRA, or GitHub, Google Calendar and dozens more.
However, the product can be confusing to use with multiple conversations happening inside a channel. Ideas can be proposed, discussed for a bit but then lost, causing topics to be repeated. The search feature works well, but only if you know the specific file name. Conversations can become overwhelming and repetitive.
Time Tracking Apps
It's amazing how much time we spend doing non-work related activities at work. A survey by Udemy found that 66 percent of respondents face constant work distractions. The problem is greatest for Millennials and Gen Zers, with 74 percent reporting feeling distracted. A great solution is using a time tracking app.
Timely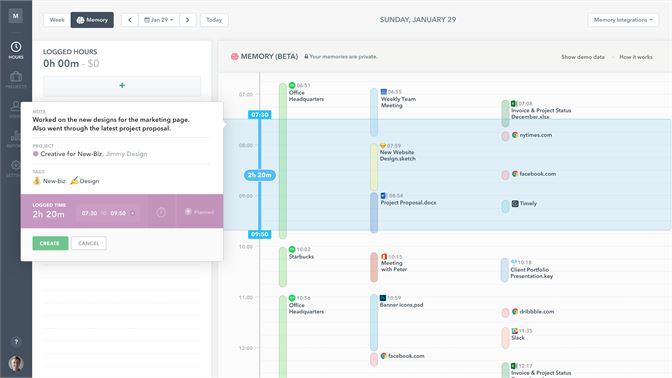 Timely is a foolproof automatic time tracking tool for freelancers and teams. Timely is designed to help users find that mysterious "25th hour" of their day, the company claims. How do they do that? By tracking your daily activity and find time wasters.
With the Timely app, you can create time blocks for each project. Easily drag-and-drop events throughout your calendar and track your time when you start working on a project. This helps you stay on track and see how you use your time.
Timely is perfect for small business owners who need to set up appointments on a regular basis – this could be hair salons, personal trainers or babysitters. Creating timesheets is easy as you can import your schedule from Office 365, Google Calendars or Gmail.
Toggl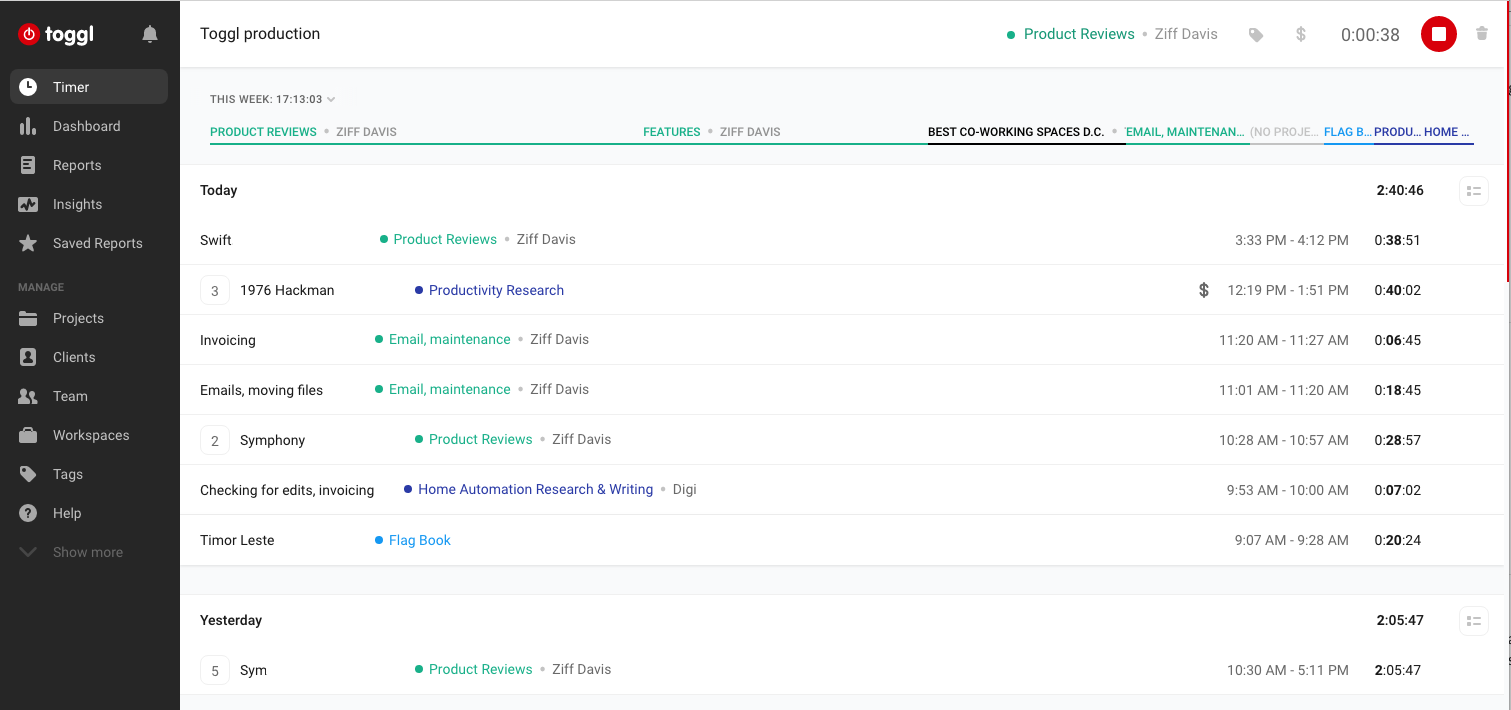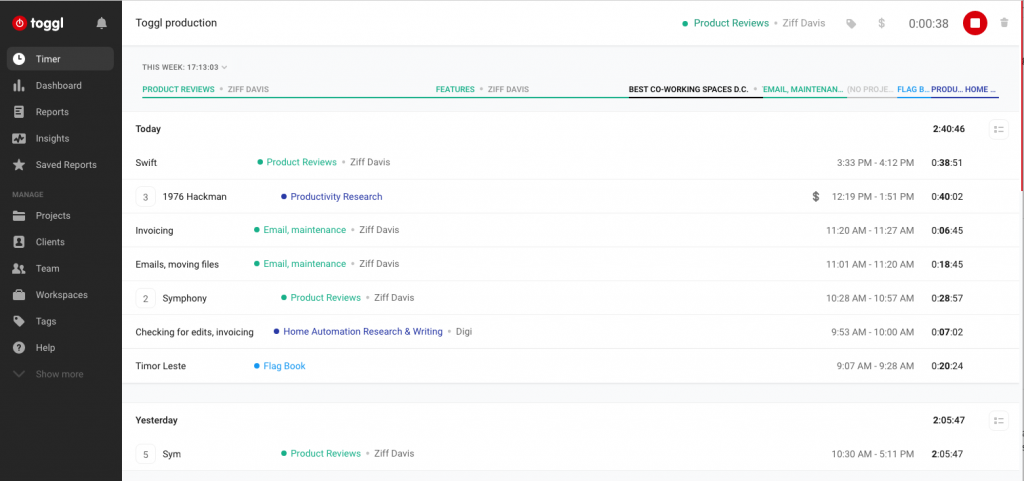 Similar to Timely, Toggl is an online time tracking software specifically designed for freelancers, graphic designers and consultants. Toggl's time tracker is built for speed and offers easy integration with other tools to increase its functionality.
The free version offers the ability to edit time tracked, tags, track idle time and create unlimited projects. Integration with other apps and services, such as Trello, Jira, Asana, Freshdesk, GitHub, Google Drive and more is seamless.
Toggl also keeps track of websites that you visited for more than 10 seconds and sends you a detailed report. Not only will you have a bird's eye view of where your time is going, but you'll also be incentivized to improve.
Project Management Apps
Ironically, one of the most distracting places to work at is at work. James wants to tell you all about last nights OkCupid date while Tom is sharing the latest Game of Thrones meme. When you finally quieten down the distractions and start working, stay on task with a project management tool.
Monday (formerly DaPulse)
Monday looks like collaborative spreadsheets. Team members can create boards made up of rows and columns. Then each row is a task, or "pulse." Within that row, users can attribute different values to the columns. This can be due date, task status, task owner and more. The tool has a slick design and is highly customizable.
Trello

Trello is a visual collaboration tool that uses the Kanban style of working. Instead of using the typical timeline structure seen in other project management tools, Trello uses boards, lists, and cards. This makes it perfect for solo bloggers who want to keep track of several boards and ideas, or agile teams who work in sprints.
An easy way to set up your workspace in true Kanban fashion is to create three lists in a board; To Do, Doing, Done. Create cards under each list and drag-and-drop them as needed. It creates momentum and satisfaction as you see that "Done" list get longer and longer.
You can add PDF's, links and more information under each card. Easily set up due dates to keep you on track. Integration is seamless with various apps, including Jira, Slack, ZenDesk and more. Trello is supported by Zapier and IFTTT. The free account includes one Power-Up which allows you to chose from their extensive options. Overall, it's one of the best productivity apps that is a fun collaboration tool, lightweight and visually pleasing.
Calendar and Scheduling Apps
A calendar is a must when it comes to productivity. You're juggling deadlines, meetings, personal life and a sure way to stay on top of it all, is to schedule it in. These apps won't only remind you of what's on the schedule next week, but it can help with short and long-term planning. This includes scheduling meetings, social media planning or planning your annual vacation.
The key to success today is to have a larger goal in mind. Know what that is, and value your time by scheduling mini-steps to take to reach that big goal.
Buffer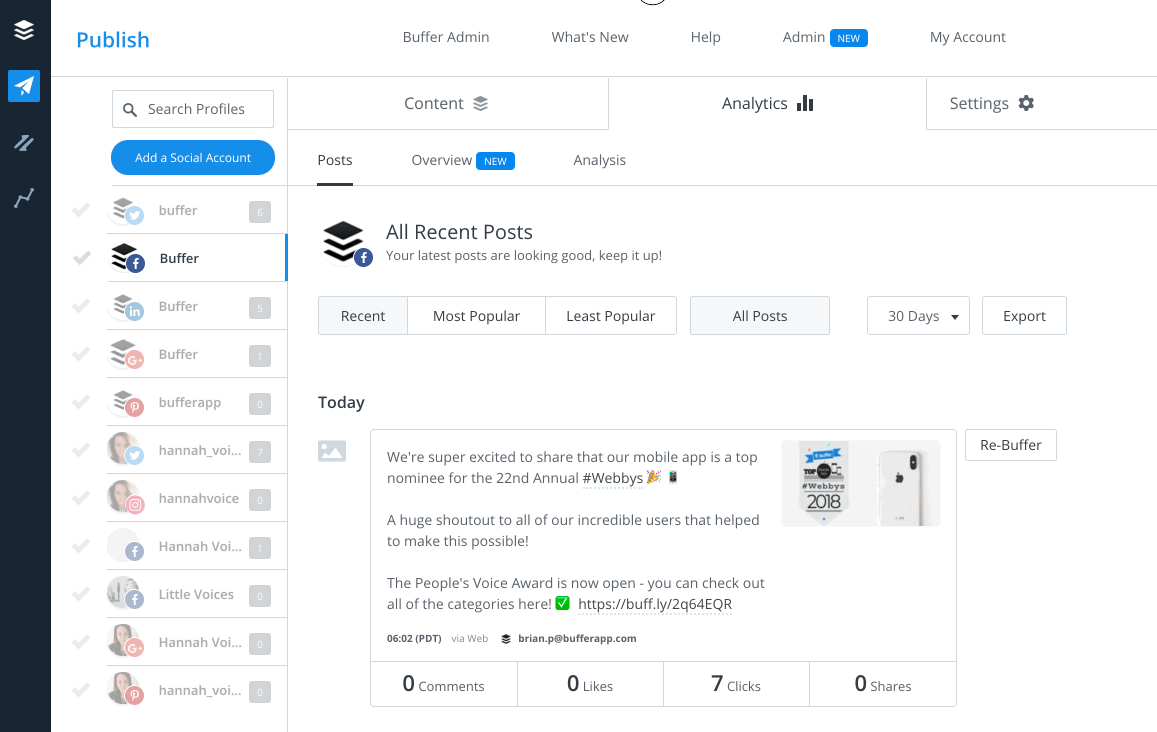 Buffer is one of the best productivity apps for managing your social media accounts. It's a scheduling app that allows you to compose your social media posts, and "release" them at a set time. Why is this useful? Countless studies reveal what time is best to post on Facebook, Instagram, and Twitter based on your target audience. Buffer allows you to schedule your posts during peak time slots when your audience is most active online.
Calendly
If you've ever done the back-and-forth dance in emails, trying to set up a time to meet for coffee or to chat, you know how time-consuming it can be.
Calendly
is simple to use – input availability preferences and it'll do the work for you. Then share your schedule via email or a chat tool, and the recipient can easily select a time and date, automatically adding it to your calendar.
Calendly is also timezone intelligent, detecting invitees time zones and automatically making adjustments. The app also integrates easily with Salesforce, GoToMeeting, Zapier and more.
Email Apps
Whether the age of email is nearing its end is still being debated by both experts and individuals. Chat and team collaboration tools like Slack and Brief have made email increasingly unnecessary for team communications. These tools are faster, and your team is all in one place. For now, however, email is still here to stay. That said, nothing is more draining than opening up your inbox to a swarm of newsletters mixed in with work and personal emails. Use an email app to clean up the clutter, allowing you only to see what matters and skip the rest.
Astro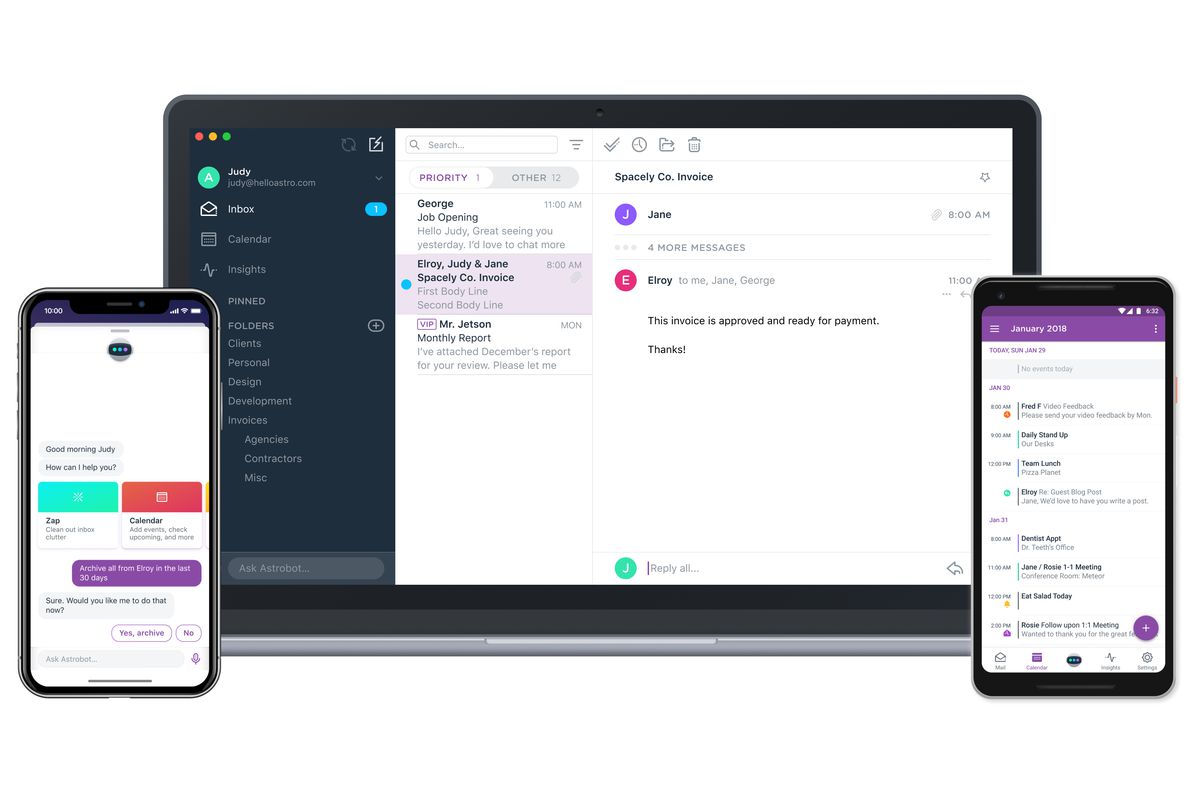 Astro offers a handy virtual AI assistant, Astrobot. Consider it a big vacuum cleaner for your inbox. It'll scan your emails and remove clutter and make recommendations for you. Astro also responds to voice commands, making it easy to use.
The app comes with a built-in calendar so that you can switch directly between your upcoming events and your inbox. Astrobot will also automatically convert any emails into events in your schedule. For example; if an email suggests meeting at 2 p.m. for coffee to go over a report, Astro will add a new event with details from the email. This saves you time and helps you plan your upcoming weeks. Astro is available for free.
Trove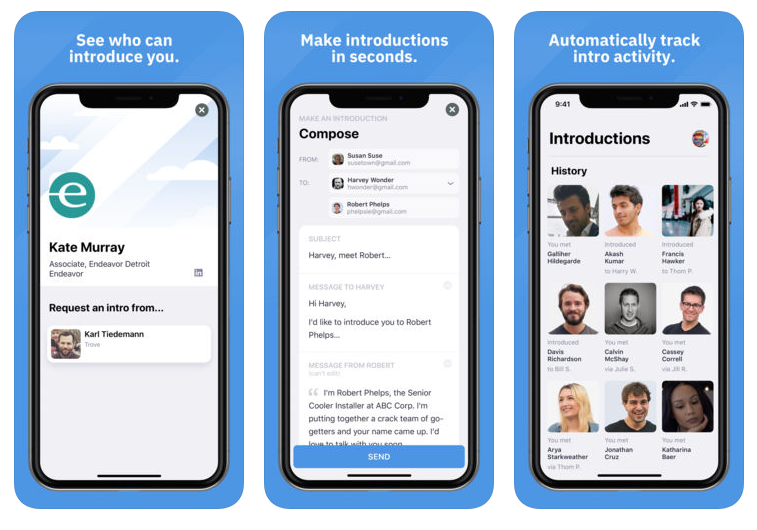 Similar to Astro, Trove also helps you clean up your inbox. However, Trove focuses more on expanding your network and ensuring important emails don't go unnoticed.
The "Radar" section flags emails that its algorithm has deemed important based on your previous interaction with the sender. Trove will encourage you to "nudge" people that haven't replied to your emails, while the "Connect" tab tracks how you're connected to others. The app will map out your network using your email, Slack or your phone.
Trove will store all your contacts in one place, so if you change jobs or delete emails, you won't lose anything. Making new connections is easy with Trove. When you search for a person, the app will show you all the ways you're connected and lets you select who to ask for a referral. It's way better than cold-calling them or sending a bland message on LinkedIn.
Automation Tools
Some of the best productivity apps are automation tools that integrate with your apps. Instead of having several apps that do separate tasks – you can link them for super productivity and a seamless workflow.
IFTTT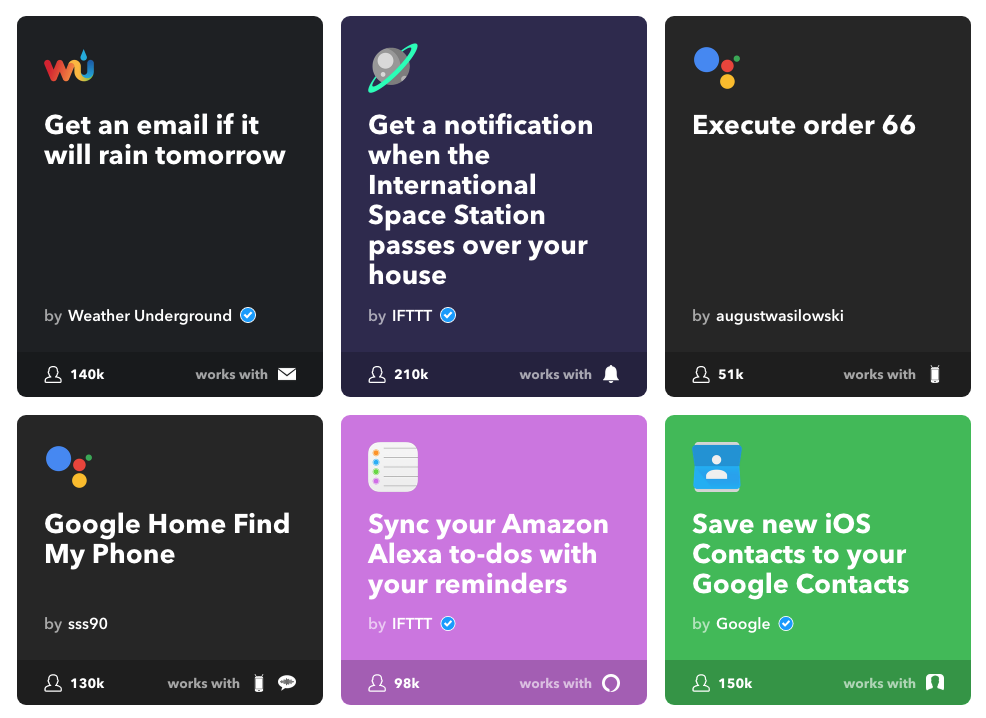 If This Then That, more commonly known as IFTTT, is a free web-based service that creates chains of simple commands or "recipes," known as applets.
There are currently over 600 apps that work with IFTTT including Twitter, Telegram, Facebook, DropbBox, Google Drive, Instagram, Gmail, and devices like Google Home, Amazon Alexa, and your iPhone.
Some applet examples include: syncing photos from iCloud to Google Photos or sync your Amazon Alexa To-Dos with your iPhone reminders.
Zapier
Similar to IFTTT, but instead of "recipes,"
Zapier
calls your commands "zaps." While IFTTT is more for personal use, Zapier focuses more on business app integration. Zapier is more robust and offers multi-step zaps (when this happens, then that, that, and that must happen).
Zapier connects with over 1,000 different products including Trello, Asana, JIRA, Google Drive, Wrike and Slack to name just a few. A downside is that Zapier does not have mobile apps, nor is it free. With the free or basic-tier plan, you have only five zaps. With the $20 a month plan, you unlock access to the whole toolkit, and you can use multi-step zaps.
Brainstorming Apps
There are times when the best way to find a solution to a problem is by answering rapid-fire questions. How can we make our product better? What features do our customers need? How can we improve our customer retention rate? Use a brainstorming app for these moments and quickly jot down ideas and branches for further exploration.
Coggle
Coggle is a brainstorming tool that allows you to create and share beautiful mind maps.
Coggle
is ideal for team collaboration and ideation. Easily drag and drop images onto your diagrams and view the change log to keep track of edits. You can export your projects in PNG or PDF format, share publicly online or create private links.
Mindnode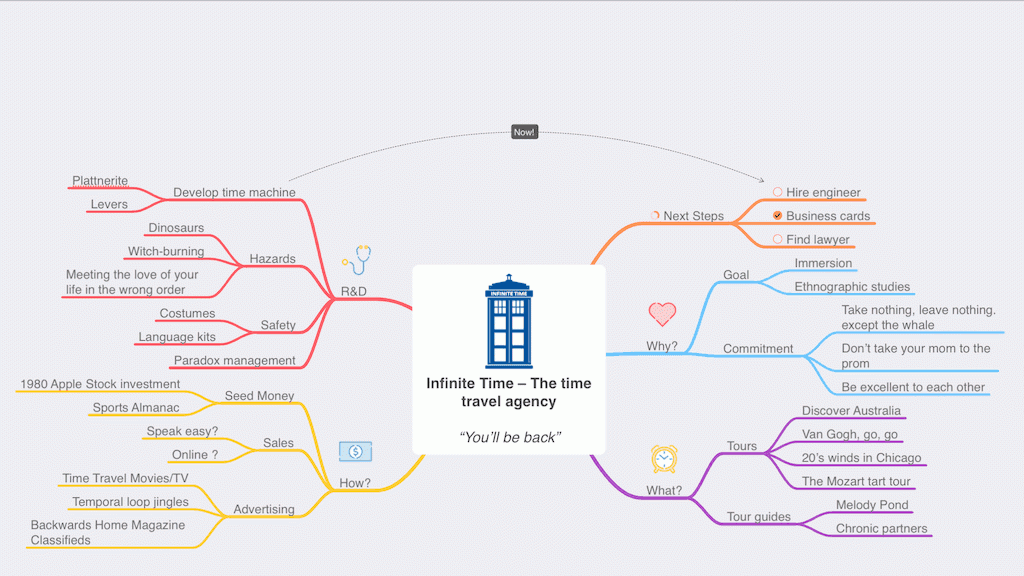 If you're a mind mapping kind of person, MindNode is a productivity app to use. Quickly map all your ideas and thoughts in one place. The interface is sleek, and it's a great way to visually plan some of your thoughts, actions, and processes.
Mindnode is a great way to unpack several ideas at once, without feeling the need to nit-pick each one. You can later go through your branches of thought processes and refine.
Bookmarking Apps
The wonderful World Wide Web can be a real time-leech. When it's not sucking your time away, it can be a plethora of delightful and insightful knowledge. Save your precious working hours for just that – working. Instead, use a bookmarking extension tool to save that clickbait-loving Buzzfeed article that you absolutely have to read. Just not right now, save it for later.
Pocket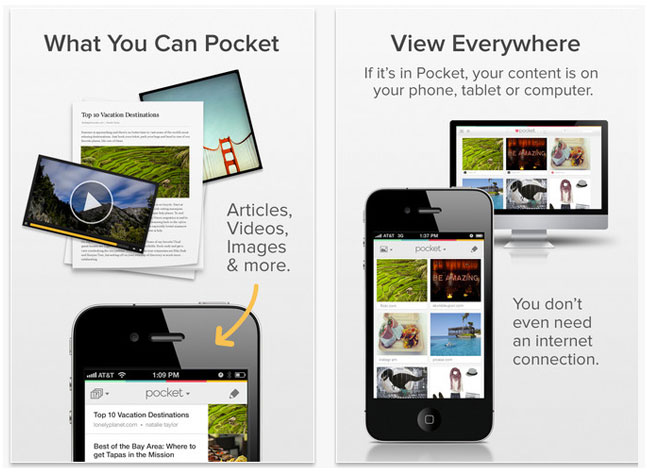 Pocket is a great website extension tool that lets you write down a task and reference it later. This helps you keep your uninterrupted workflow, while still saving the information you'll want to view at a later stage. Use Pocket not only for work material but also to satisfy your personal curiosity. If you see a viral YouTube video or an article you want to read save it for later without getting distracted right now.
Parallels Toolbox
Parallels Toolbox is a menu bar app that includes 35 useful productivity tools for your computer that'll get you working faster and more effectively. It basically crams a bunch of utilities – like hiding the desktop, taking a screenshot, free memory, downloading a video from a browser, recording audio, and more, all in a single app.
Of course, these are all things you can do in your MacOS or Windows, but it's super convenient and fast to have them all in one place.
Note-Taking Apps
With the plethora of knowledge at your fingertips, you need a way to sort it all. Collect and save facts and data you can use later, by keeping it one place. A lot of these note-taking apps come with handy browser extensions so you can save directly from the website. Add keywords and notes to help you find it later. Sometimes you may need to jot down an idea quickly, and other times you need comprehensive notes on a specific topic.
Evernote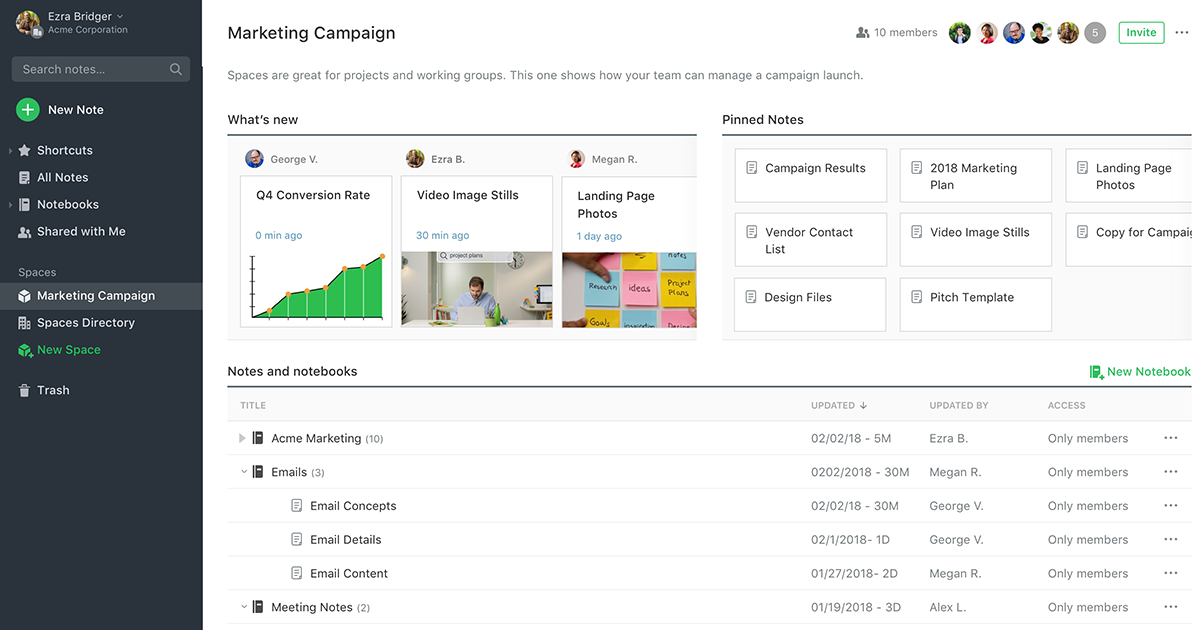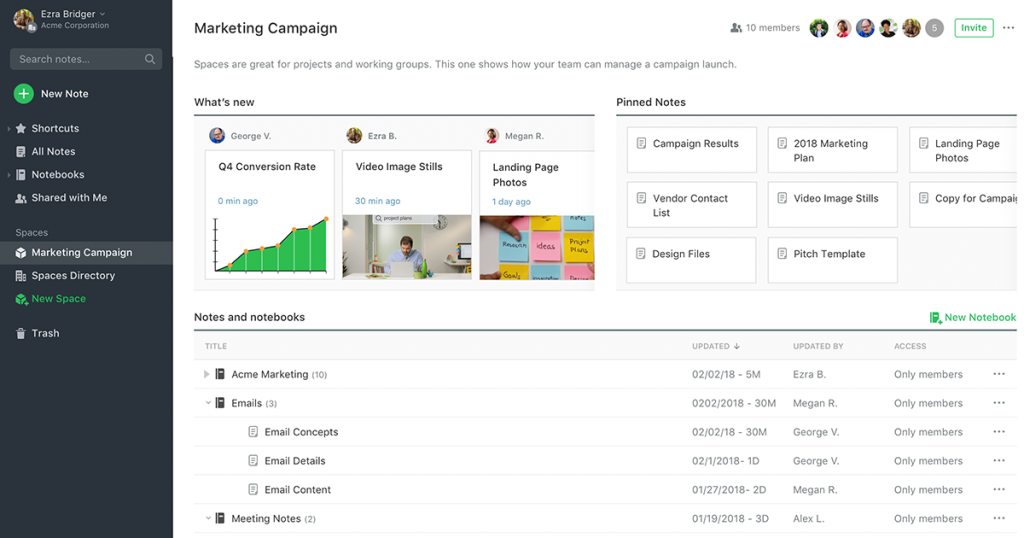 One of the most popular organization apps, Evernote is like a second brain. Store all your notes in one place. You can quickly capture, organize, and share notes from your mobile or laptop. Evernote can sync with all devices and allows users to send notes to others via email or text.
If you prefer writing to-do lists by hand – Evernote offers the ability to snap a photo of your note and upload it. Evernote is robust with options to create folders with notebooks and notes, make To-Do lists and set reminders. You can create recipe books, a bullet journal, manage your receipts and more.
Its web-clipping tool is a standout feature. If you spend hours researching topics online, whether it's for a writing project or design examples – then Evernote web clipper extension is perfect. You can quickly capture content from the web, tag and organize it to make it easy to find when you need it. You can also annotate by adding text, highlighting important sections, inserting arrows, drawings on it, and more.
Google Keep
Google's aptly named Keep app is an easy way to clip content from the web and store your notes. Access it anywhere as syncing is seamless. Compared to Evernote, Google Keeps' interface is barebones and straightforward. Both Evernote and Keep have a camera feature with optical character recognition (OCR) technology which quickly digitizes text in files, making it easy to search for content using keywords.
It's quite a visually friendly tool. You can easily color-code notes for different categories, making it easier to hone in on all the yellow notes you've saved for your SEO research.
Unfortunately, Google Keep doesn't offer any simple formatting options. It can be frustrating if you want to add some bold or italicized text to your note, you're unable to do so. Another weakness is that it doesn't save links in the text you've clipped from the web. So if you save a few paragraphs from an article, it won't save any of the links the text may have. It only keeps the link to the entire article page.
Google Keep does not offer any audio recording features in its web app. You also can't mark up images or PDFs which is a pity if you want to make specific notes on the documents. Overall, Google Keep is barebones compared to note-taking giant Evernote. It is simple to use though and if you use Gmail and Google Docs, integration is seamless.
Writing Apps
Now that you have collected all your data and project requirements, it's time to get to work. Whether you're a writer by trade or penning a marketing report for your execs – take advantage of these useful writing tools.
Grammarly
If you write for the web, or even if it's just sending emails to colleagues,
Grammarly
is a must-have productivity app. The app will check your writing for grammar and plagiarism. If you want to make double sure everything is good to go before hitting that publish button, you can send the text to a human proofreader.
The free browser extension is a powerful little tool that quickly catches any misspelled word or sentence error before you click send.
A downside is that there is no integration with Google Docs and Grammarly, only with MS Word and Outlook. You also cannot upload Mac (.pages) documents or PDFs. Grammarly only supports MS Word (.doc, .docx), OpenOffice (.odt), .txt and .rtf. If you're a Mac user, you'll have to take extra steps to first save it as a .doc file before uploading it to the app.
Hemingway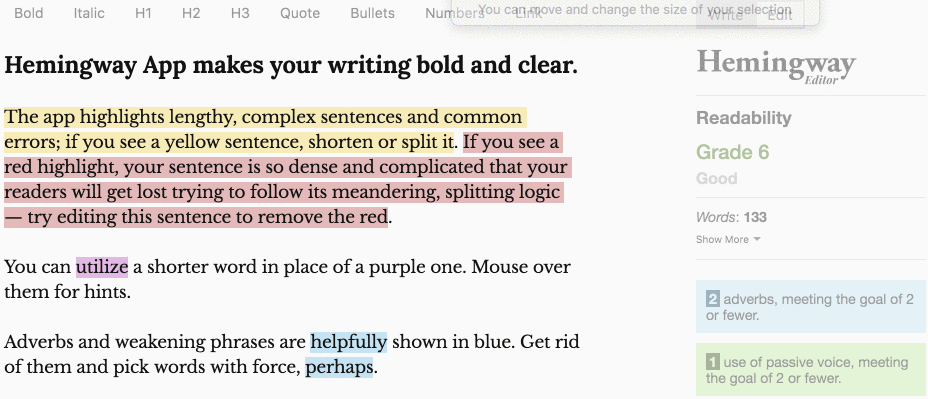 Hemingway App is a godsend for a writer or pretty much anyone who wants to polish up their writing skills. Named after Ernest Hemingway who is well-known for his short, concise sentences – the app's goal is to help you improve your writing. You can use either the web version for free or download the $20 desktop version which comes with more features.
The app scans your documents, then color codes sentences for you to review. Any sentence that is hard to read is yellow, very hard to understand is pink, complex words or phrases are purple, adverbs are blue and passive voice is green.
Another great feature is the ability to import text from Microsoft Word and other text editing software. You don't need to copy and paste between program. Once you're done, you can export it as a PDF or Word document file.
The desktop app also allows you to save your formatting and post directly to WordPress or Medium. This saves you time and makes it one of the best productivity apps for writing and editing content.
Voice to Text Apps
Have you ever had stellar ideas just flow from you, and despite being a fast typer, you can't keep up with the excitement? Whether you're in a meeting, a lecture or you're interviewing someone – Voice-to-text productivity apps are a great solution.
Just hit record, and the app will record and transcribe the audio. Now when you need to make make a summary or extract action items, the text is ready for you to use.
Otter
Otter is a smart transcription tool that's perfect for students, reporters or personal assistants that need to compile meeting notes. The app will record any audio, transcribe the content and identify the speaker. This is perfect for students or reporters who want to stay focused, as opposed to furiously typing notes.
If you're recording a conversation with two or more people, Otter will recognize when the speakers change and make a note in the transcription.
Descript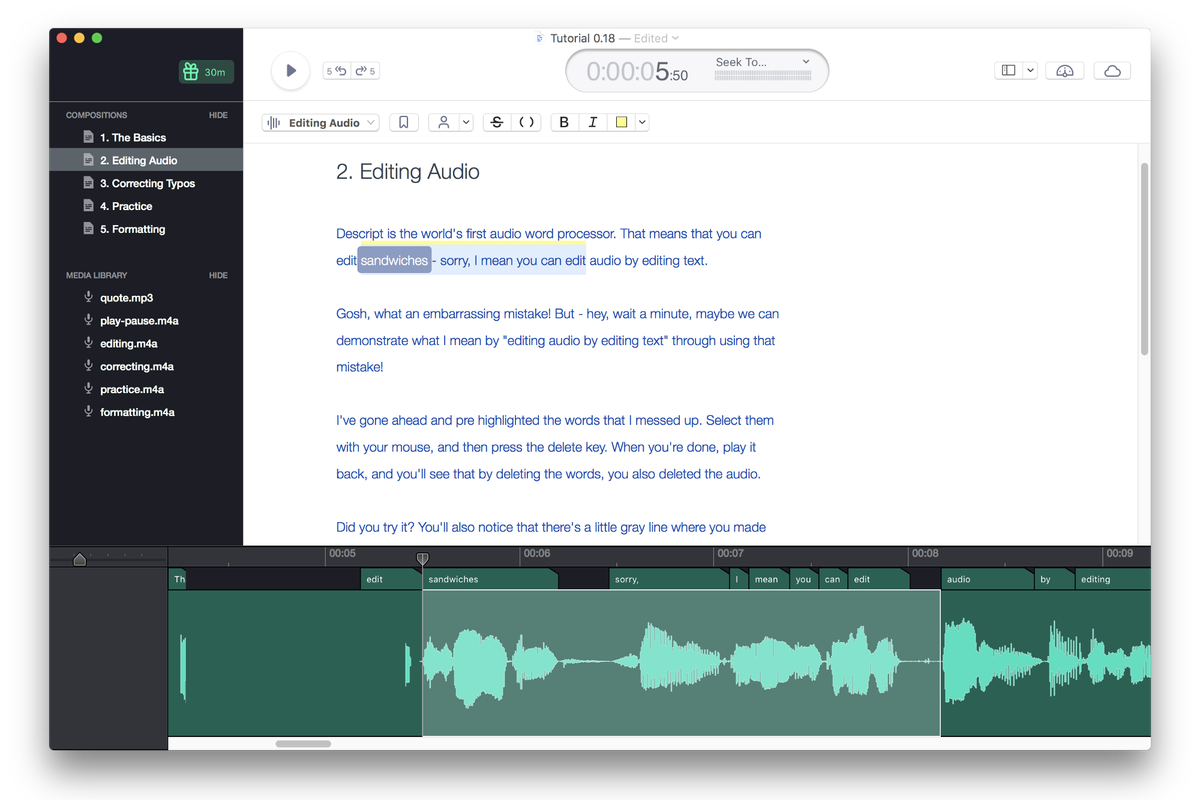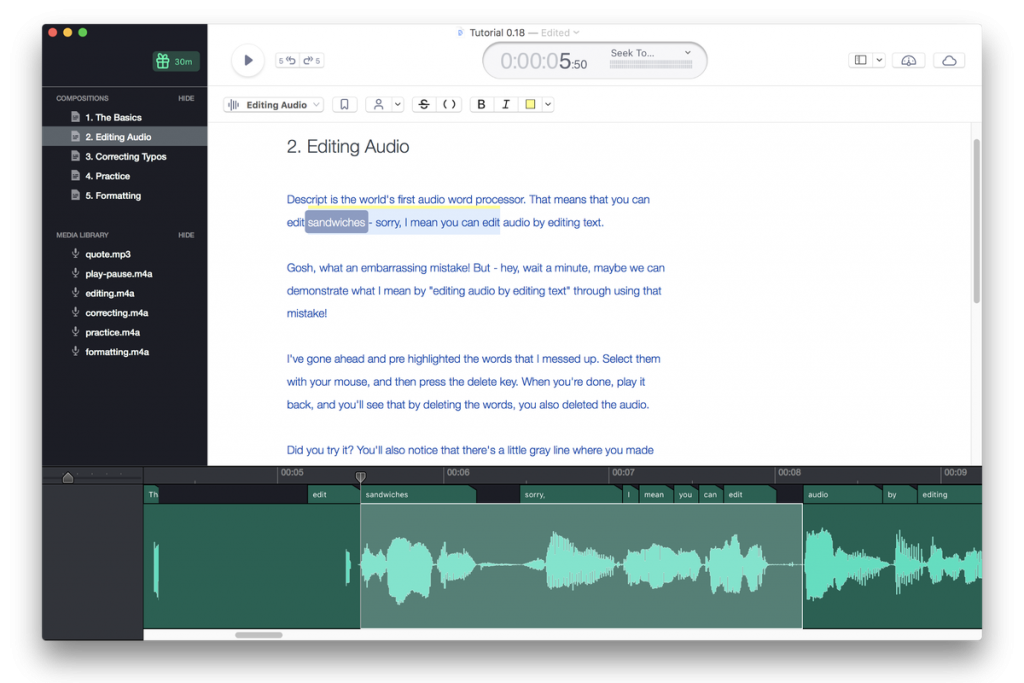 Descript is a powerful tool for audio editors who can make changes to an audio file, simply by editing the text transcription of that audio file. Whether you're a podcaster, journalist, Descript makes it as easy to edit audio content, as it is to edit a text document.
Descript is collaborative and lets other users listen to the audio and leave comments on an interactive transcript. Prices range from 7 – 15 cents per minute for transcription.
Focus Apps
Are you supposed to be working on a report, but instead, you're checking out the latest on Twitter? Is it hard to resist the temptation of opening up a new tab and falling into the internet rabbit hole? I get it, staying focused can be a challenge in this distraction-saturated world. Focus apps are here to save the day and help you take back control of your time.
RescueTime
If sites like Facebook or Reddit easily distract you, then RescueTime will be your secret productivity weapon. RescueTime tracks all the time you spend on different apps and websites (scary stuff), helping you avoid time wasters. This is one of the best productivity apps to track your time and keep you focused.
It does not have a time tracker like Toggl, but it helps you to set goals (spend less than 1 hour a day on email) and take action (set an alarm for when you spend more than 1 hour on Facebook). Every week, you'll receive an email with your weekly online activity and a productivity score. It will help you better plan for the following week.
Forest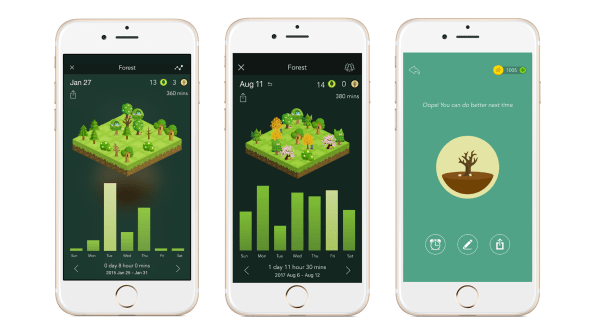 Notifications, alerts, tweets, texts are all brain drain that drains your productivity. Instead, grow a tree. Literally.
The productivity app, Forest, grows virtual trees on your phone when you're productively working. You set a timer and lay your phone down. During that time, you may not check messages, answer calls or visit sites on your phone. If you do, your tree will wither away.
The point of the app is to grow a forest of trees which you can reflect back on and see just how much work you've completed.
Brain.fm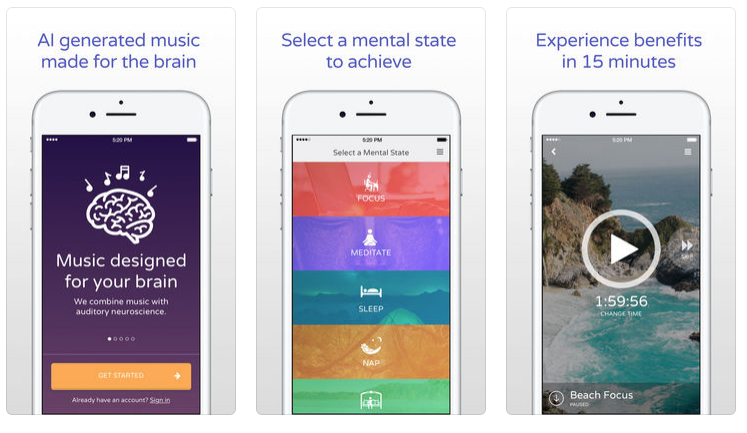 Have you ever sat down to work, but there is too much distracting noise around you? Brain.fm offers you customized music to work, focus, meditate, relax or sleep. According to the website, the company aims to combine music and auditory neuroscience to "enable any mental state on-demand."
The music you'll hear is completely original, so don't expect to hear songs you recognize. The "brainwave" music should help you reach your desired state within 15 minutes of use.
Brain.fm is free for seven listening sessions; then it's $7/month for the premium service or $4/month if you pay for a year up front($48).
Productivity Owl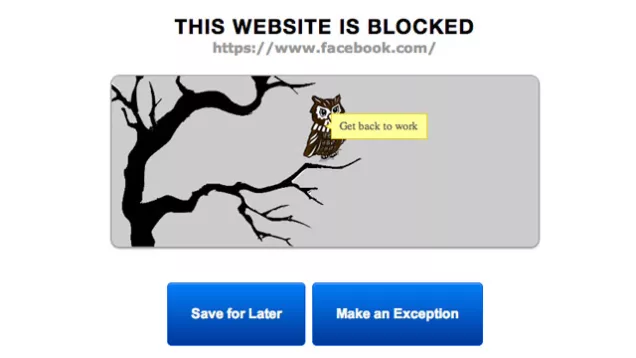 This is a simple to use a browser extension that lets you blacklist websites that are time wasters. When you open up a site you've blocked, an owl will sit in the page's corner staring at you. After you've spent some time on the site, the Productivity Owl will fly across the page and close the tab.
Before you think this may be too restrictive – you can schedule Free-Time periods so you can browse any page you want.
Personal Growth
Personal productivity apps remind you to take care of yourself. How can you meet that peak level of performance if you're neglecting your mind? These apps will remind you to take mindful breaks, read more books and how to gamify your life.
Headspace
Productivity comes in many forms. It may be counterintuitive, but taking a break means you can return to your task refreshed and invigorated. Headspace is a guided meditation app. This is great, especially for meditation newbies as it takes out the guesswork.
Daily meditation breaks have shown to reduce daily stress and help improve concentration. It serves as a daily reminder to take a break, breathe, and reset.
Habitica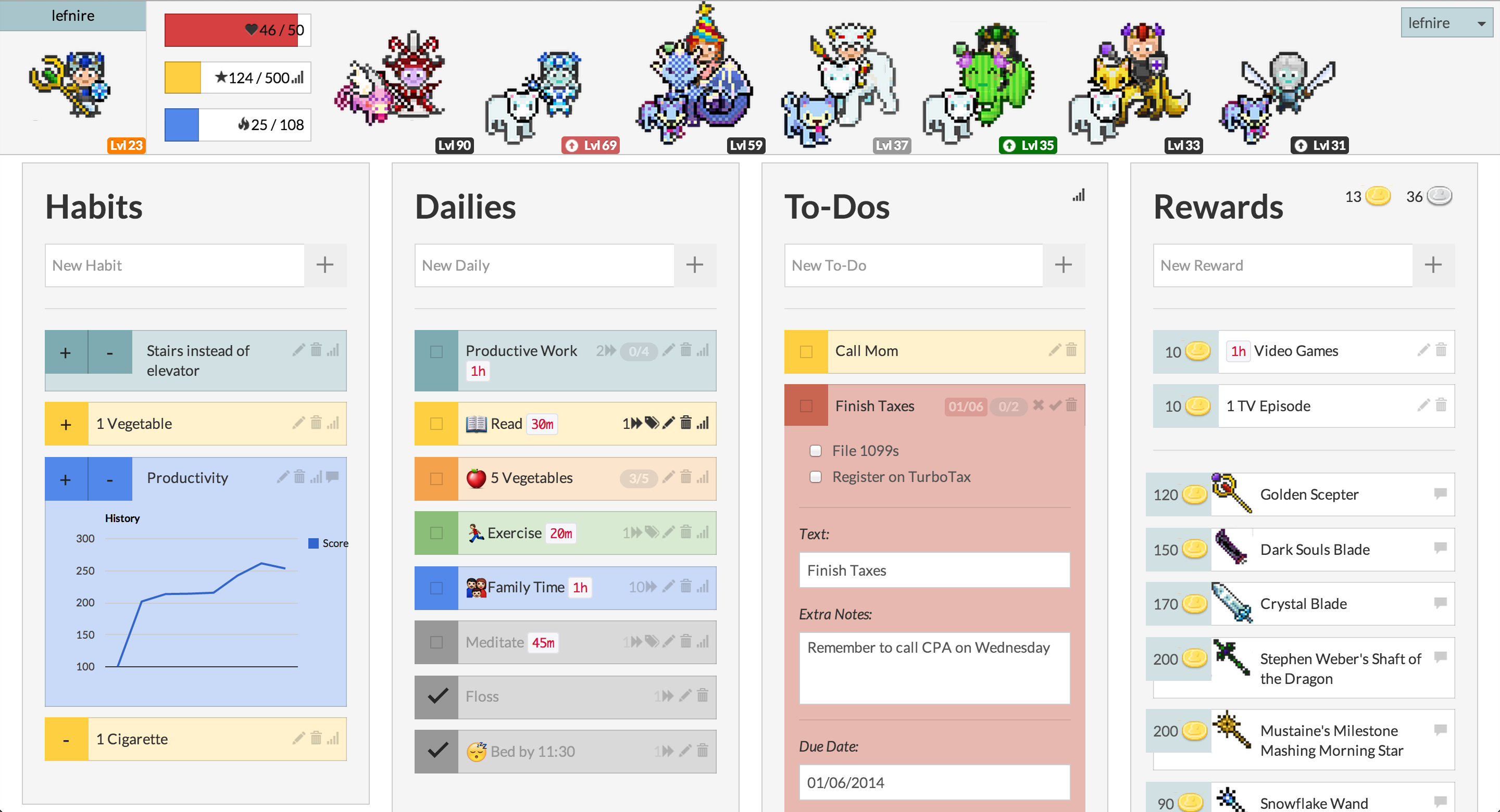 Want to gamify your life? Habitica is a habit-forming and productivity app. If there are daily goals and habits that you want to incorporate into your life, but keep forgetting or lack the motivation, then this is a great tool to use.
Add in a reminder to drink more water, get in 10,000 steps and floss your teeth. Once you do it, you level up in the game. You can also earn rewards and unlock in-game features such as magic skills, mysterious pets, and battle armor by checking off your habits and to-dos.
Grateful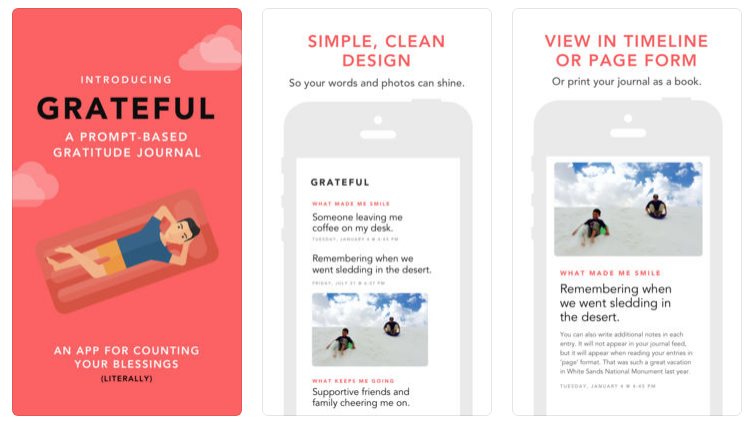 Yes, this is not a productivity app per se, but by jotting down what you're grateful for on a daily basis, is a great way to keep you motivated. By looking back at what made you smile today, or that career high you experienced last week – it'll boost your drive to do more.
Grateful has a clean design with the option to add a photo and answer a daily prompt. Simple and easy way to record your day's highlights and what made you feel grateful.
The practice of keeping a daily gratitude journal can help your overall mood, productivity, health, and wellbeing. Grateful people experience less physical ailments and reported feeling healthier than other people, according to a 2012 study published in Personality and Individual Differences. They were also better overall sleepers and had higher self-esteem.
Kiwake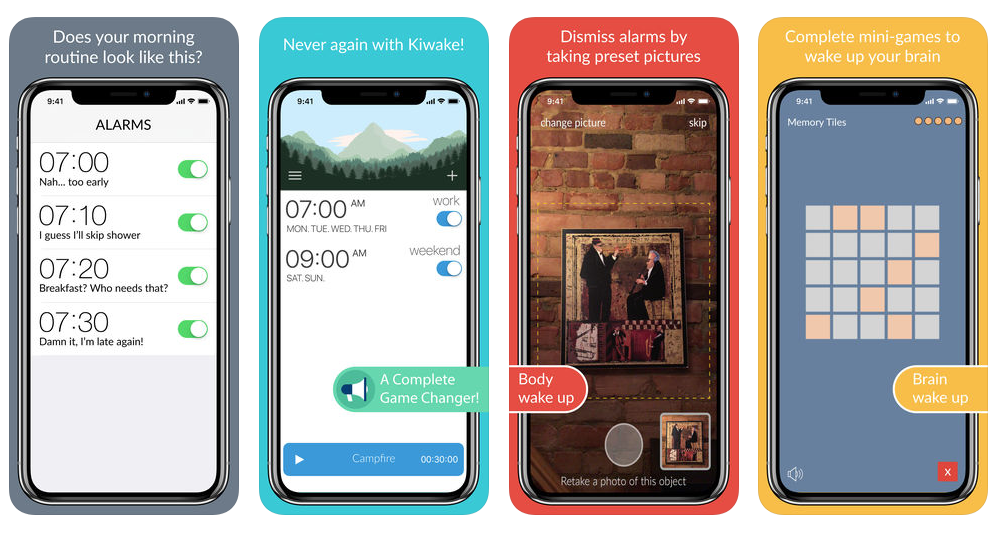 If you want to be more productive and become an earlier riser, you need a smart alarm. It's easy to hit that snooze button on your current alarm. Not with Kiwake. It's an alarm clock that doesn't take no for an answer. Now, before you get scared, let's look at how it works.
Kiwake focuses on three aspects: body, mind, and motivation. When the clock is in the body phase, you have to stand up and take a photo. This is perhaps the secret to why it works – you have to get out of bed to turn off the alarm physically. Then, use your mind to solve a puzzle. Lastly, it keeps you motivated by showing your daily goals and tasks.
GetAbstract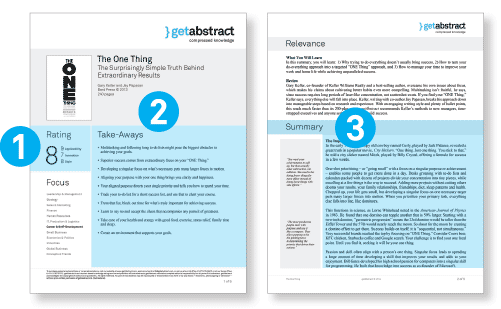 You're curious and a knowledge seeker. Reading books is just one way you expand your horizons. But it takes time and concentration to read business and personal growth books.
GetAbstract condenses non-fiction books, articles, videos, and economic reports for you to digest in 15 minutes or less. Summaries are available in audio or text. With GetAbstract, you'll be going through countless books in no time at all. Prices start at $4.95 per/month for a Starter account with access to 5,000 summaries. GetAbstract is one of the best productivity apps that help you read more in less time.
Conclusion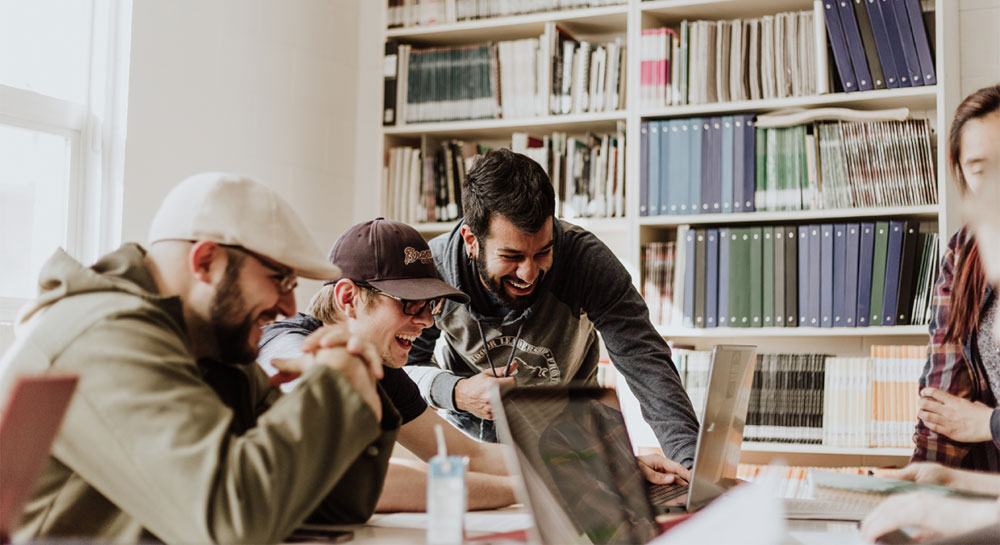 Congrats, you made it all the way to the end! You're definitely serious about improving your productivity. Now you have the ultimate list of the best productivity apps and tools to select from to enhance your workflow. Find what fits your criteria and run forth.
Make use of a chat and messenger tool Brief, combined with RescueTime to track your online usage, Use Take productive breaks with Headspace and take advantage of automation tools. These best productivity apps of 2018 will get you one step closer to getting more out of your day.
Ready to try Brief? Download it for free today!