10 WhatsApp Alternatives For Getting Things Done
Digital products are built on the foundation of convenience. It's the mobile phone's job to make staying in contact easier. It's Facebook's job to keep us up to date with the events of our friends and family. It's Messenger's job to make communication seamless and help us get more done faster by being able to instantly chat with friends, family, and colleagues.
The digital world has placed convenience in our pockets, and even more popularly has made most of its features free.
Free messenger app, WhatsApp took convenience and ran with the idea, so far so that they've pretty much conquered the world. WhatsApp currently has 1.3 billion monthly users, making it one of the most used platforms in the world.
Almost 20% of the entire human population on Earth uses WhatsApp.
The instant communication of WhatsApp has turned it into something the founders never intended for, a workplace group chat. The app has forgone its only chatting with friends and family origins and started to help businesses get things done by keeping the team in contact through group chats.
The popularity of the app didn't get past Mark Zuckerberg, founder of Facebook, who acquired WhatsApp in 2014 for $21.8 billion dollars, one of the biggest deals in the history of mobile apps.
To break that down into easy to swallow numbers, Zuckerberg effectively wrote WhatsApp founders a $55 check for every single user they had on the platform at the time.
Why was Zuckerberg willing to place such a massive investment in a messaging app?
The Benefits of WhatsApp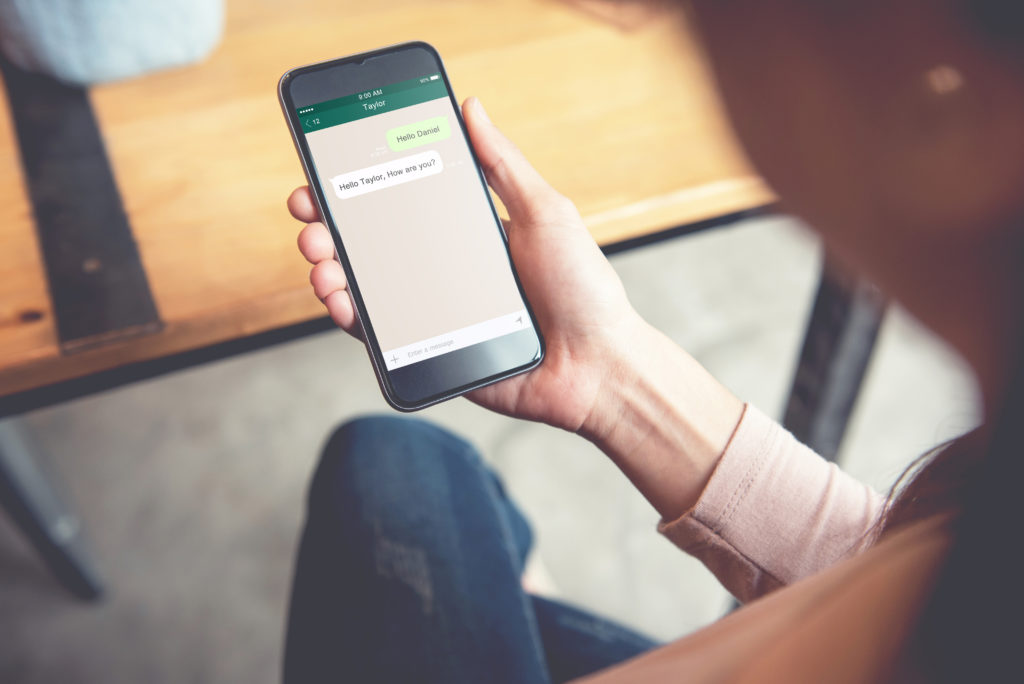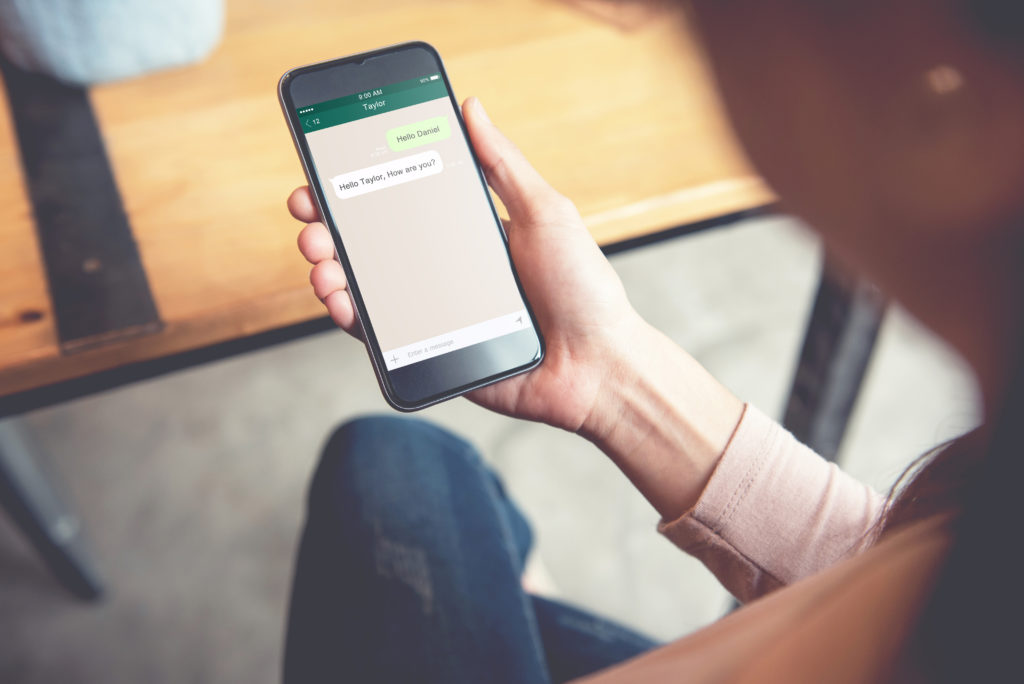 Like mentioned above, WhatsApp is a free platform. Users are free to message with as many contacts as they want, create group chats, send pictures, and customize profiles and pictures for their account.
A quick list of WhatsApp benefits includes:
It's free
Fast and reliable
Used almost universally (109 out of 195 countries)
Simple and has most of the features users expect from a messaging app
Secure with end-to-end encryption (only users can read the messages)
These benefits are great for social chatting and for business chats, but they don't take businesses very far. Offices aren't created in the middle of casinos for a reason, and in the same respect, it doesn't make productive sense to place office communication in the middle of a social chat platform.
The Disadvantages of Using WhatsApp for Business
Distraction is a key driver in the reason that businesses stray away from using social chats, such as WhatsApp and Facebook Messenger to run their businesses. If social media platforms are synonymous with casinos, it seems a CEO using WhatsApp is asking for their workplace efficiency to tank.
The quick list of WhatsApp disadvantages looks like this:
Mishmashing personal life with professional life
It's disorganized, with no categorization and only basic search functions
You can only use the desktop version by pairing it with the app running on your mobile phone
Facebook is already moving to monetize it with advertising (aka selling your personal data)
The major benefactor of WhatsApp is that it's free and able to be used worldwide, but the downfalls are apt to become the demise of annual goals. How does a business know when it's time to upgrade to a business messaging platform?
How To Know When It's Time To Leave WhatsApp and Upgrade to a Productivity App
WhatsApp can be as dangerous as betting on red, but it can also be a great first step for startup companies with a low budget. When it comes to allocating minimal funds, intelligent founders and CEO's know that a productivity app shouldn't necessarily be their first expense.
How do you know when it's time to upgrade messaging apps?
Your business relies on sending and receiving important files from your team
You need to be able to video chat several members of your team at once on a regular basis
You need hubs to organize chat within departments and the team members within it
You need to seamlessly integrate both internal teams and external clients, suppliers and partners
You need all messages, conversations and files to be accessible from any device in real-time
You need to keep track of action items, tasks and deadlines
Here's a list of ten WhatsApp alternatives, each with specific features to best suit various business models.
10 WhatsApp Alternatives for Businesses
Brief
Brief, one of Apple's New Apps We Love of 2018, is an app created to propel your business forward. Its concept is to keep everything simple and is one of the only minimalist productivity apps on the market.
Brief's features include messaging hubs that let you keep individual chats organized by department or project. We've also integrated file storage for easy access whenever you need to access any files in the future. Our collaboration with Zoom allows Brief users to video chat with four team members, one of the most effective communication strategies.
Brief offers and will always offer a generous free plan, with premium features planned for 2019.
View Brief's plan options here.

Chatwork
Chatwork is "a group chat for global teams." Their platform runs on the idea of real-time chat messages and quick, to the point video meetings. Chatwork automatically organizes all attachments by project or topic for future use. They're also big on security, providing customers with 256-bit encryption, one of the most secure encryption methods available.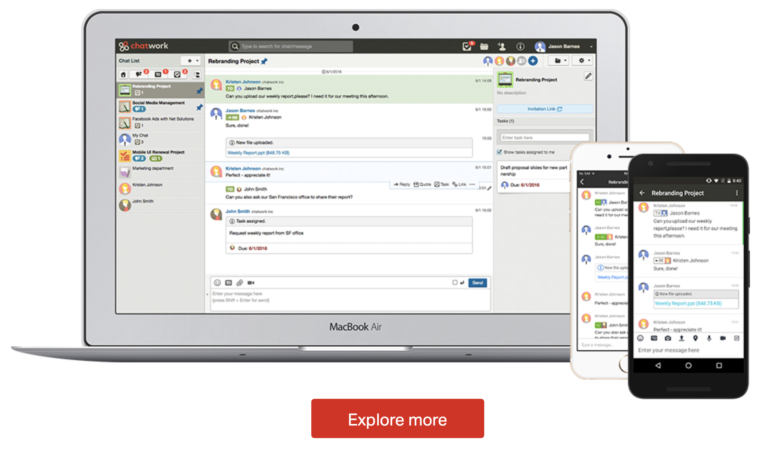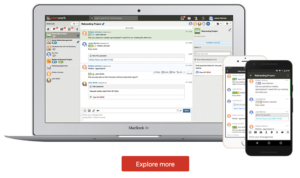 Chatwork offers some of these features in their free plan, but don't provide the file storage or group video calls in this plan. To access these features, users have to upgrade their plan based and pay for each user using the platform.
Chatwork offers three plans, a free plan, a personal plan, and a business plan. The business plan is a flat $5.00 month/for each user using that platform under the company.
View Chatwork's plan options here.
Cisco Webex
Cisco Webex is an app designed to continue the flow of teamwork through the week, month and year. Meetings can be started with one click and users are able to switch from desktop to mobile to iPad seamlessly. All files sent within chats and group chats are organized and searchable.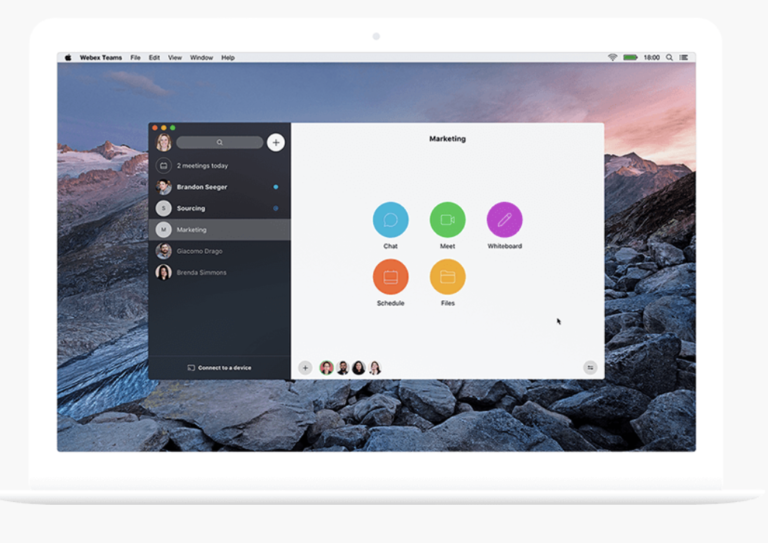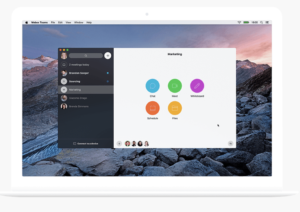 Cisco Webex's most unique feature is their whiteboard, which allows users to make virtual sketches, within the app, as they would on a whiteboard with dry erase markers. The drawing is interactive and shared within chat. Cisco Webex has end-to-end encryption, secure search for files and messages (searches can't be found by hackers) and locks that can be placed on specific messages and files that can only be unlocked by a moderator.
Cisco Webex offers two plans, a video meeting plan called Cisco Webex Meetings and a team management plan called Cisco Webex Teams. Each plan has four options: Starter, Plus, Business and Enterprise. Cisco Webex's does not offer free plan options.
View Cisco Webex's plan options here.
Flock
Flock's goal is to put every workplace interaction in one place. Their platform organizes conversations and provides productivity tools to make work life easier. Flock offers team messaging with one on one conversations and group chats that can be organized by project, department or interest. They also organize files and make searching for a specific file easy with their content drop down menu.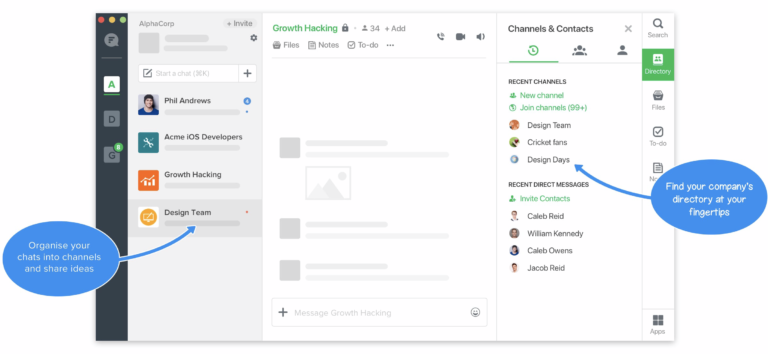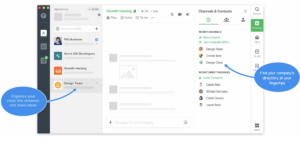 Flock offers video chat and screen sharing, shared tasks, polls, and reminders.
Flock has three plan options ranging from $0 a month to over $4.50/month for enterprise clients.
View Flock's plan options here.
Microsoft Teams
Microsoft is no stranger to the productivity and collaboration app space. Microsoft Teams is the teamwork hub for Office 365 with chat, online meetings, calling and web conferencing features and built-in integrations to Office 365 apps such as Word, Excel and Powerpoint. Microsoft Teams also offers integrations with several 3rd party services.
This platform is also end-to-end encrypted.
Microsoft Teams doesn't offer a free plan, but their cheapest plan is $5.00/month and their most expensive $12.50/month.
View Microsoft Team's plan options here.
Signal
Signal is a security-focused messaging platform. It's so secure that it received the backing of Edward Snowden. Signal offers the usual features of messaging, video chat and document sharing, and also allows voice chats.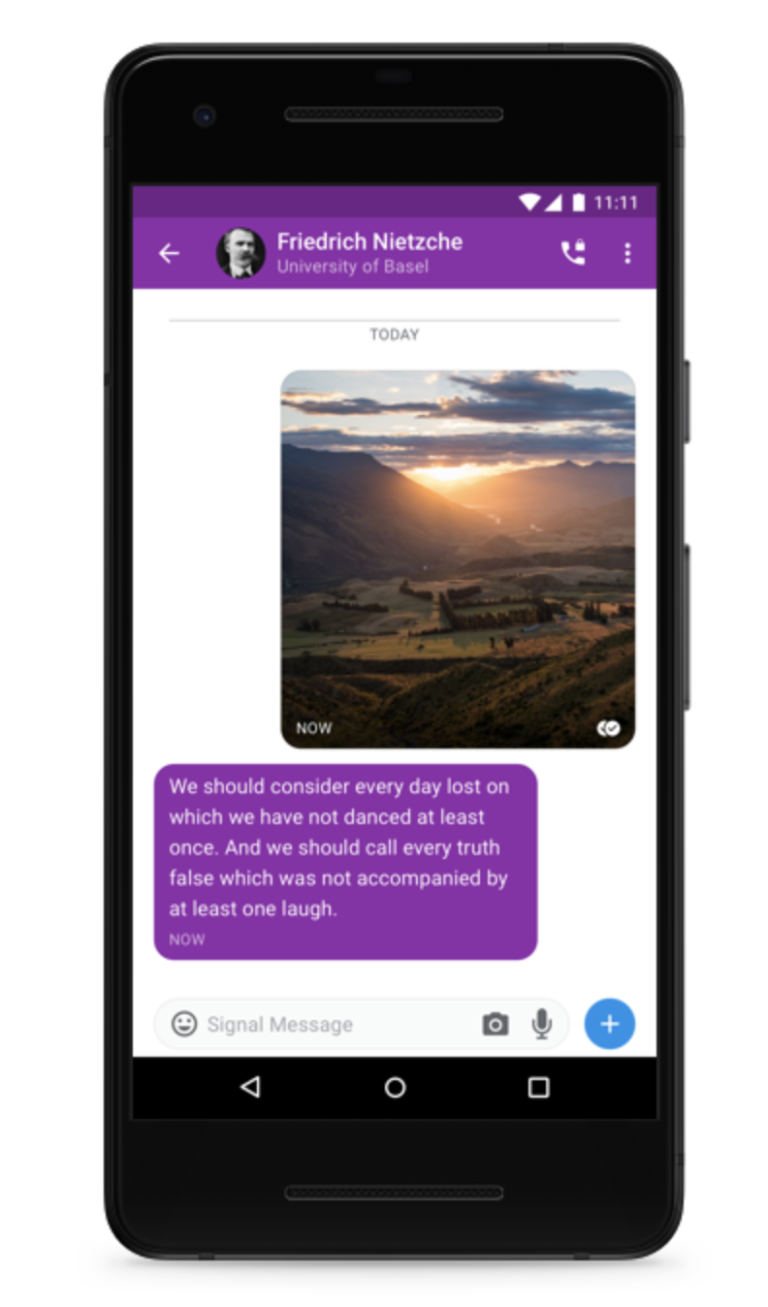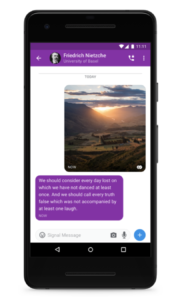 Signal allows users to set messages to disappear after a set amount of time and is end-to-end encrypted so no one has access to the content of messages except the sender and recipient.
As an open source project, Signal is totally free to use. It obligates itself to zero ads or affiliate marketers and doesn't allow any tracking. It's available on Android, iPhone, and Desktop.
Click here to view Signal's website.
Slack
Slack has coined itself as a collaboration hub, where communication is organized into channels by projects, topic, or whatever the team leads desires. Conversations are searchable, the app integrates with tools and services used on a daily basis, and the platform is backed by 2FA and SSO security technology.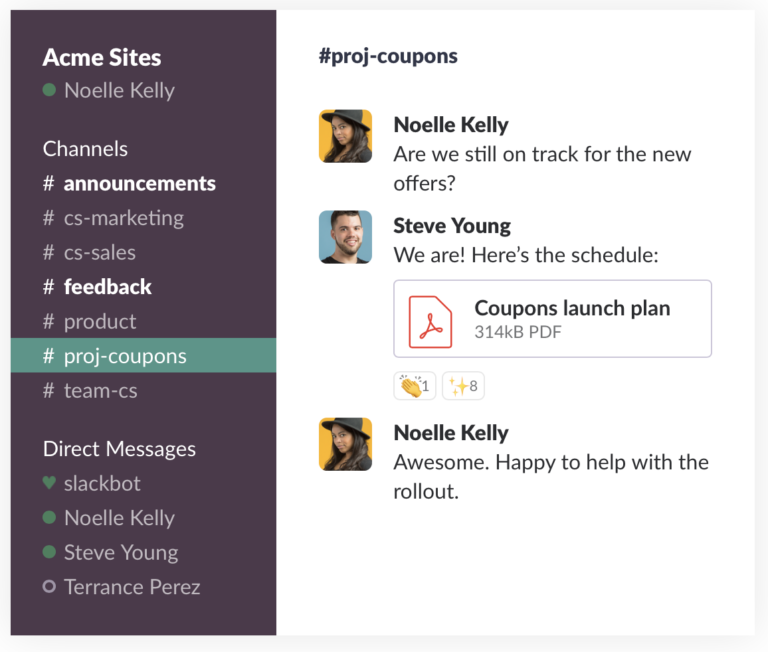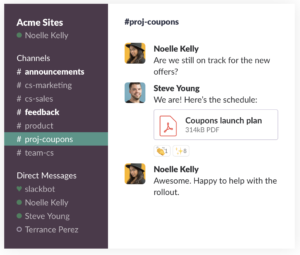 Slack's interface has customizable themes and emoji-based reaction to incorporate a playful side to business chat, making the app one of the most popular on the market. Though, we have warned of the dangers of easily distracting collaboration apps.
Slack has three pricing options, Free, Standard, and Plus. Their Standard plan is $6.67/month and their Plus plan is $12.50 per month. The Free plan includes fairly stringent limits on chat history.
View Slack's pricing options here.
Telegram
Telegram, like Signal, is a totally free platform. The Russia-based company promise no ads or subscription fees ever. Telegram's chats are encrypted and can also be set to self destruct. There are no limits on the number of chats or media sent within the app, giving users the ability to connect with 100,000 users at once. Chats are synchronized across all devices for easy access to messages and files regardless of where you first received the message.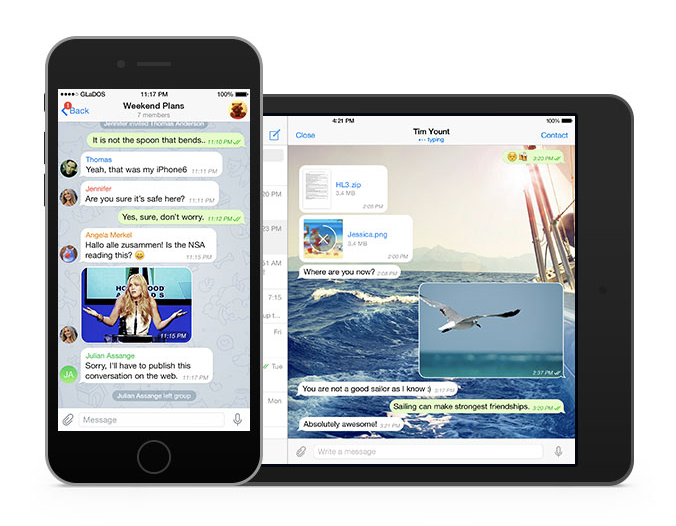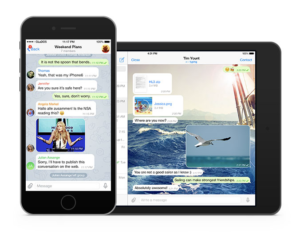 Telegram also gives the extra security option to create a passcode to open the app on any device.
Click here to view Telegram's website.
Troop
Troop is the "unified business communication platform" integrating instant messenger, video call, video conferencing, file sharing and calendars under one umbrella. They give users the option to integrate Troop Store apps into their Troop messenger to personalize the needs of their chat hub.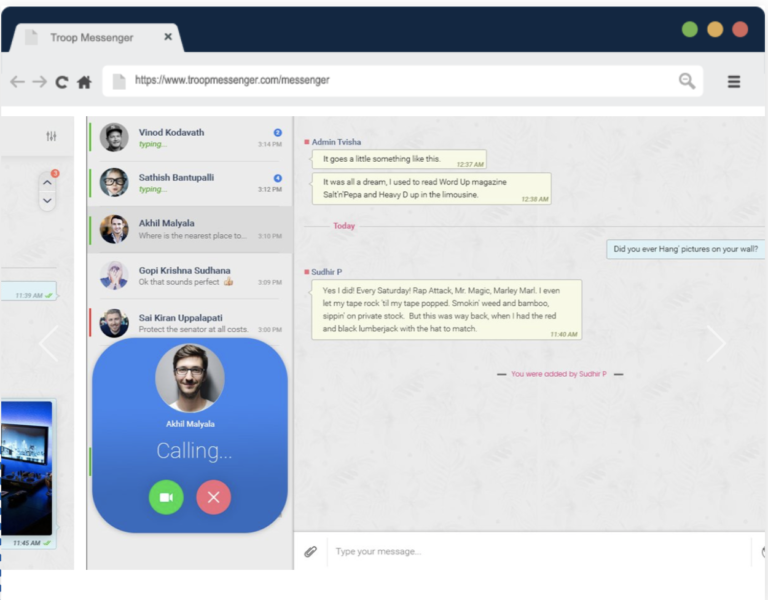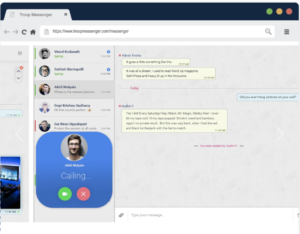 They also have server-side encryption to secure data, a 4 digit PIN for login, fingerprint scanner and activity monitor.
Troop offers four plans, ranging from $0/month to more for Government use and 10,000+ user a month businesses.
View Troop's pricing options here.
Wire
Wire, similar to Signal and Troop, has their largest selling point as their security. Their messages and files have end-to-end encryption. They are the only platform mentioned on this list to take security one step further and apply it to clients who don't use the platform. Wire has a feature that gives users the ability to create an encrypted guest room that a third party can join by clicking a link provided by the user. The third party doesn't need to download a file or register an account.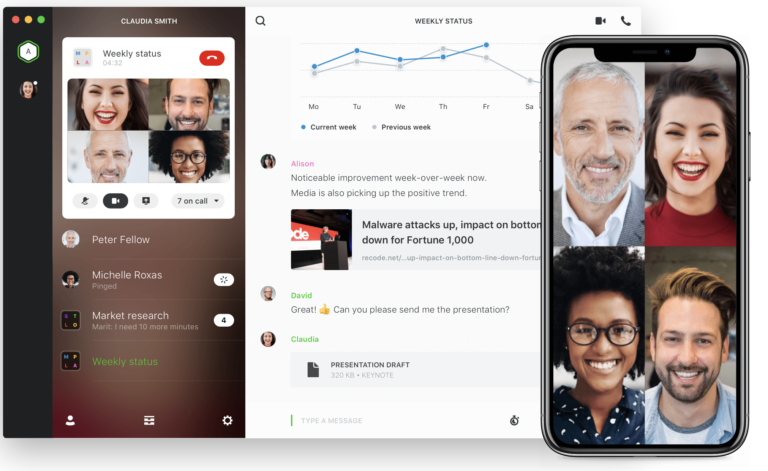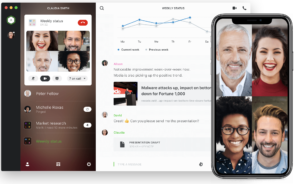 Wire has three pricing options, personal, which is free to use, pro which is $4.50/month, and their enterprise plan. However, the free plan is limited to only sending files 25MB or smaller. They also offer Wire Red, a recovery system for compromised networks that ensure business communication isn't hindered by unavailability. Non-profits, schools, and universities are eligible for discounts.
View Wire's pricing options here.
Messaging platforms like WhatsApp, Facebook Messenger, and iMessage have a time and a place when it comes to business. When your business is ready to outgrow free chat platforms, finding the right platform is the first step. The second is to ensure you are making group chat work at work.
The digital world has placed convenience in our pockets and in our businesses. Capitalize off of the technology by testing out free trials and plans, like the one offered at Brief, to find the right productivity app for your business.
Try Brief for free with your team in seconds.