A lot of people benefit from seeing their tasks visually, such as in Kanban project management. The primary drawback of this and other methods is that you can't see how long tasks take. And that can make it hard to set a timeline.
Enter the Gantt chart, which can help project managers easily plan team workflow and map out realistic expectations of how much time their team members need for tasks. And now, many online tools are available to help you make the Gantt chart your own while allowing you to make changes easily.
We at Brief think that a good Gantt chart has the following characteristics:
It accommodates linked tanks and task dependencies
It allows you to set start dates and due dates
It lets you quickly visualize team members' workloads
We know they're cute, but don't dive right into setting up your Gantt chart. Take the time first to identify all the tasks for a project, finish assigning tasks, and decide upon clear target dates.
The Gantt chart allows you to quickly identify:
Potential roadblocks or spaces where team members are overloaded
Places where task completion is scheduled to take place after the start date of its dependent task
Areas where the workflow can be streamlined
Let's look at some online options for creating Gantt charts:
Agantty is all about the Gantt. It offers a drag-and-drop interface to sort and assign tasks easily, and you can filter views to be able to see only what you need.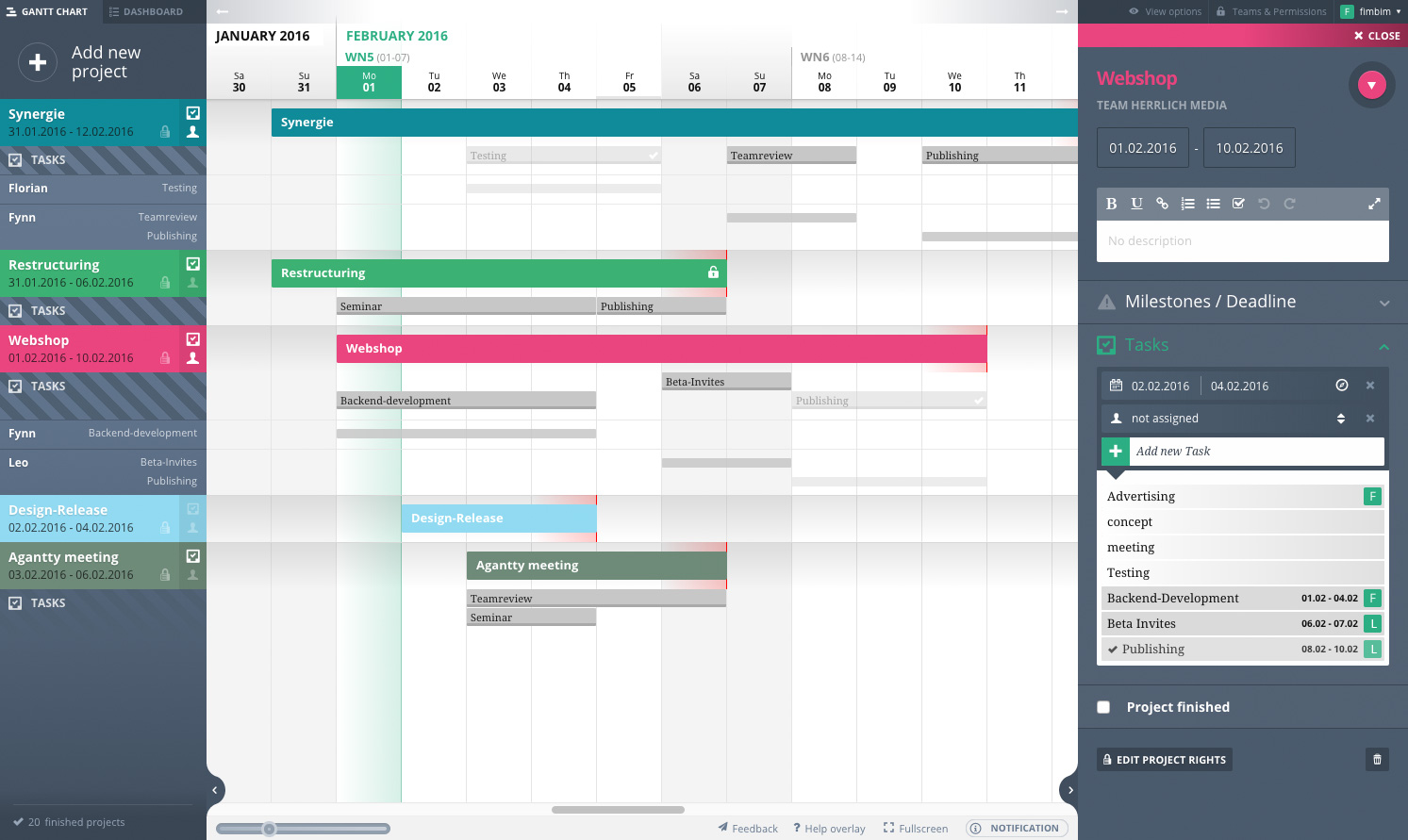 Agantty is also completely free, which makes it a great solution for small teams or even solopreneurs.
Asana, despite being a fairly robust project management app, doesn't have Gantt charts, although it does have a Workload feature that lets you assess how many tasks are assigned to team members at a given time.
Instagantt offers a typical Gantt chart with color-coding and task dependencies, so if you love Asana but want the full Gantt experience, look no further.
Bitrix24 seems to want to offer it all: intranet, chat, document management, an integrated approach to tasks, calendar, and messages — phew! Its real power lies in its easily-created task dependencies. You can choose different schemes to align the tasks, and any message or event can be made into a task.
Bitrix24 also offers time tracking and reports, recurring tasks, and the ability to share with clients or stakeholders.
ClickUp is a project management app that includes Gantt as one of its views for tasks. You can filter to-dos by lists, task status, team member, priority level, tag, or a custom field of your choice.
ClickUp also offers milestone tracking, which makes it great for multi-stage projects, and time tracking, so that you can get an accurate idea of how long projects take.
GanttPro is one of the heavyweights in the world of online Gantt charts, and for a good reason. It not only offers highly customizable charts, but it also automates a lot of the work.
For example, you can enter information about your team's time and resources and the tasks that need to get done, and GanttPro will handle the rest. It can also quickly generate project timelines for you to share with clients.
Redbooth is a project management software system that includes Gantt chart and timeline views. You can color-code tasks and easily visualize your team's tasks in a Gantt chart.
Unfortunately, you'll have to upgrade to be able to set task dependencies, and Redbooth does not offer a way to view recurring tasks. If your team does a lot of similar projects, Redbooth might not be the best option for you.
If you love Gantt charts but would like them to be a bit more interactive, take a look at TeamGantt. It allows you to attach files and leave comments on any task.
It also provides drag-and-drop functionality to make it easy to set tasks and a workload tool to help keep you from overburdening your team members. TeamGantt does require a paid upgrade for more than 3 team members but is worth it for larger teams.
Teamweek is actually a visual project planner, but it incorporates Gantt into its approach by allowing you to see multiple team's members scheduled tasks in a simple visual presentation. If you're not about the frills, Teamweek is for you.
One plus is that you can generate a public link for your Gantt chart so that you can share it with people outside your team.
Tom's Planner offers total flexibility in viewing your Gantt charts, such as the option to sort by icons, percentages, or color.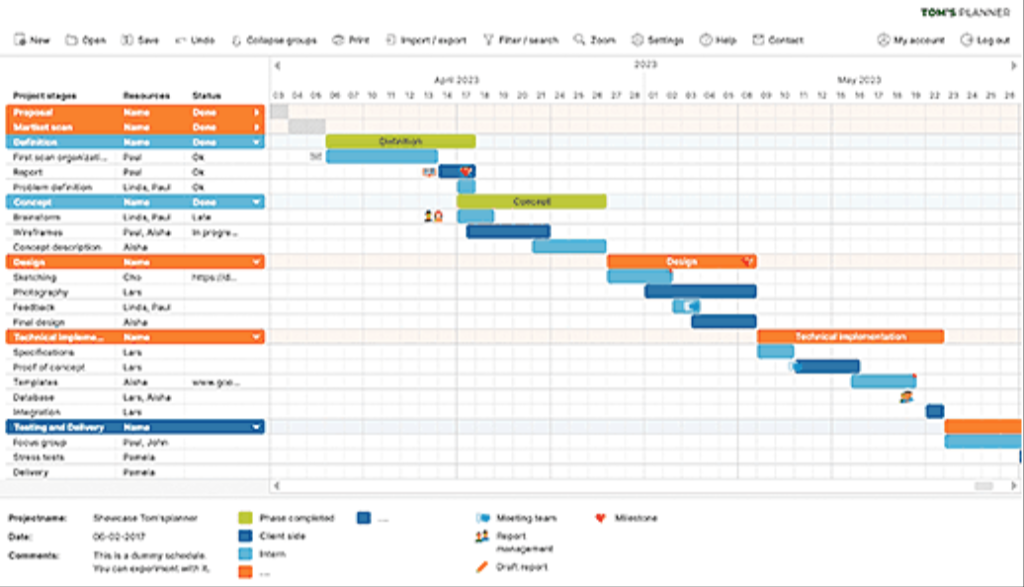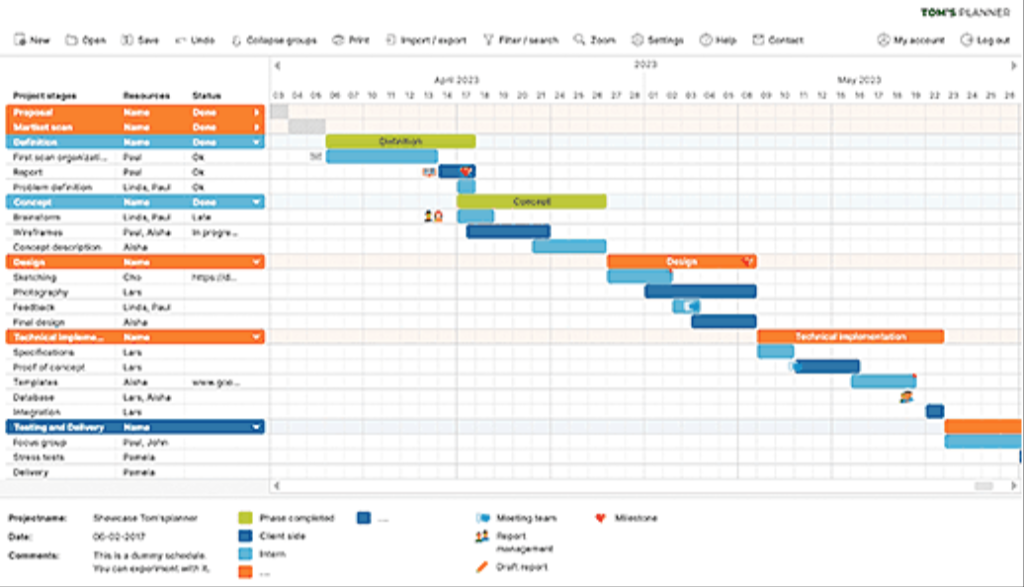 Tom's Planner also offers templates to get you started and the ability to import from Excel or other project management apps if you're re-doing your systems.
Wrike is among the most robust project management apps. One of its chief powers is that you can set and view tasks by virtually any view, including Gantt charts.
Wrike makes it easy to schedule and assign tasks, track their status, and attach rich media to them. In Wrike, Gantt is part of a suite of tools that helps you track team members' workloads — and you can even generate reports on your team's productivity.
Conclusion
Gantt charts have the potential to do what typical task managers can't: show you holes in your project plan and identify overburdened team members. That said, Gantt charts are notoriously hard to set up. With these online versions, you can now easily make changes and share your charts.