If your team's to-do list is becoming unwieldy, but a full-featured project management system is overkill, try a task management app!
We at Brief think that the task should be at the center of all productivity apps, so we've gathered this list of task managers that will make it easy to wrangle your to-do list.
Airtable isn't a task manager app per se, but can easily be "hacked" to serve as one. You create a "base" (spreadsheet) which can have multiple tables (tabs), and each table contains "records" (data rows). You can fully customize each record, attach files, and set due dates and assignees, so Airtable can definitely serve as a task manager. If your team loves spreadsheets, Airtable is the tool for you.
Any.Do combines a to-do list with a calendar. It's more for personal use, but you can share tasks with others, so it can be useful for small teams who need to alert each other about what they're working on. There are two views: a Kanban-style view in which you can see Today, Tomorrow, Upcoming, and Someday, and a detailed task view where you can see attachments, subtasks, and notes. Any.Do integrates with other apps via Zapier.
Asana is a project management system in which the task is front and center. You create workspaces in which you can then create projects, and Asana allows you to break out your to-dos into both sections and tasks with subtasks. Asana keeps project discussion and files close at hand.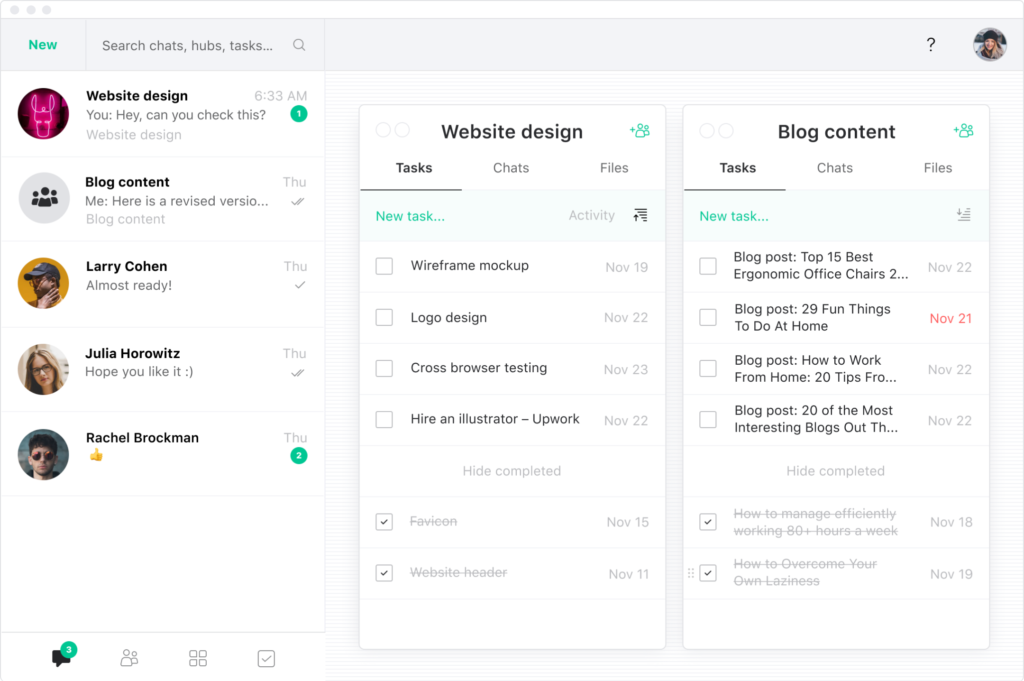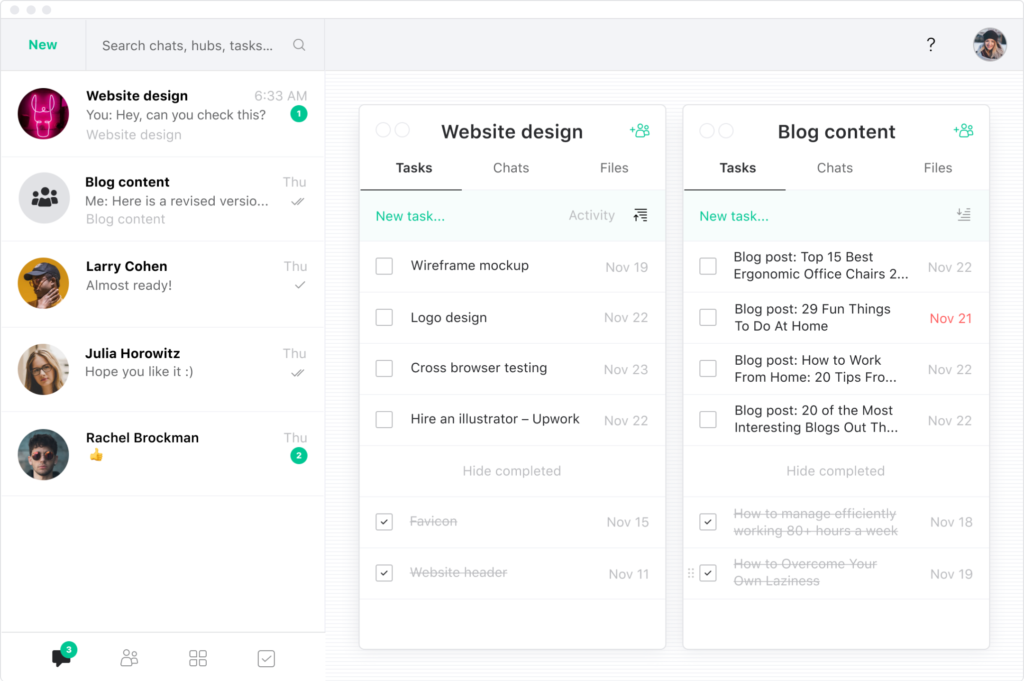 Yes, we're a task management system! We combine tasks and chats in hubs that you can customize, and you can always transform messages into tasks. We also offer the ability to keep files close at hand.
ClickUp is a project management system that includes a robust task manager. You can see your tasks in list view, boards, boxes, or time needed. The app also consists of a Notepad feature to sketch out ideas or annotate tasks, and a Task Tray to make tasks go away when you'd rather not see them. You can convert team members' comments into tasks as well.
HiTask is a task-oriented project management system. You can track time spent on tasks, set permissions for tasks, create a team calendar, and store project files. One cool feature is that you can drag and drop tasks onto a team member's avatar to assign the task to them. Nifty!
If your team has a bad habit of naming tasks in too broad terms, Quire can help. It encourages you to break down tasks into subtasks, then sub-sub tasks, and so on, then has you identify the highest-priority items. If you mess up, you can easily drag-and-drop the items to create a structure of tasks. Quire also offers a Kanban, but it has to be created separately. Still, Quire is an easy way to build complex to-do lists.
Todoist is a to-do list with a few features that make it better for teams. You can set up projects, organize by labels and filters, and create subtasks. Each task has four priority options, reminders, and the ability to link to other tasks, which is very cool.
For small teams who all perform similar tasks (e.g., a software development team), TaskQue helps automate the process of task assignment. Your workload is divided into projects, which in turn have tasks that automatically move through the workflow. And yes, it's FREE for up to 10 users.
Trello is a Kanban tool, but you can customize to your needs. For example, in the screenshot above, we see that tasks are sorted by difficulty level rather than status. Trello offers the ability to attach files and add comments to any "card" and set a due date, which makes it a great task manager.
For very small teams who want free, full-featured task management, Wimi is an excellent option. It incorporates messaging and document sharing into its to-do list, and you can invite clients into workspaces. Wimi uses a Kanban-like interface to help you track project status. Its impressive timeline feature shows task dependencies, overlapping workflow, and how many each team member has on their plate.
ZenKit is a lot like Trello but is more attractive (see above screenshot for proof). It's light on third-party integrations, but if you don't need those and would prefer a more elegant interface, ZenKit is for you. ZenKit also appears to have a better search function than Trello.
Conclusion
Before diving in, ask yourself a few questions:
How many people need to be in the task management system? (Sometimes, people like interns don't need to be on board, because their supervisors will pass on tasks to them separately).
Do you have clients? 
How complex are your projects?
With answers in hand, go through the list above and see which apps seem to best suit your needs.
Did we miss something? Comment below with any questions!