As a Boy Scout, Gihan was always a tinkerer – and would experiment with turning outdoor gear into everyday clothing. Fast forward through an MIT engineering education, and Gihan brought his Boy Scout inspiration to life.
After meeting his cofounder Aman Advani at MIT, they launched Ministry of Supply and invented a new type of apparel—performance professional. As Ministry of Supply's President and in-house design expert, Gihan leads the technology and garment development processes. He heads up visits to the factories, leads design in-house, and even puts garments to the extreme test: in 2015 he set the Guinness Book of World Record for fastest half-marathon ran in a suit, and in 2018 he cycled cross country wearing a NASA-inspired polo. Gihan's dedicated to melding form and function to design clothing that pushes the boundaries of what's possible.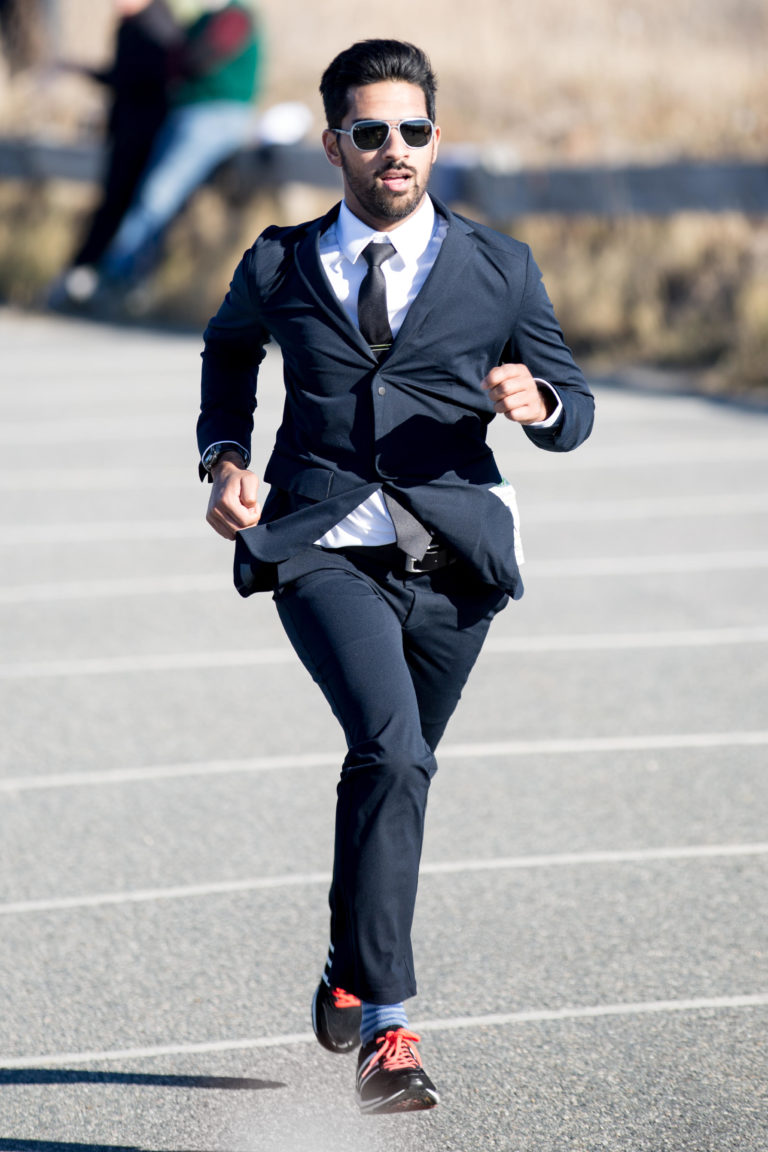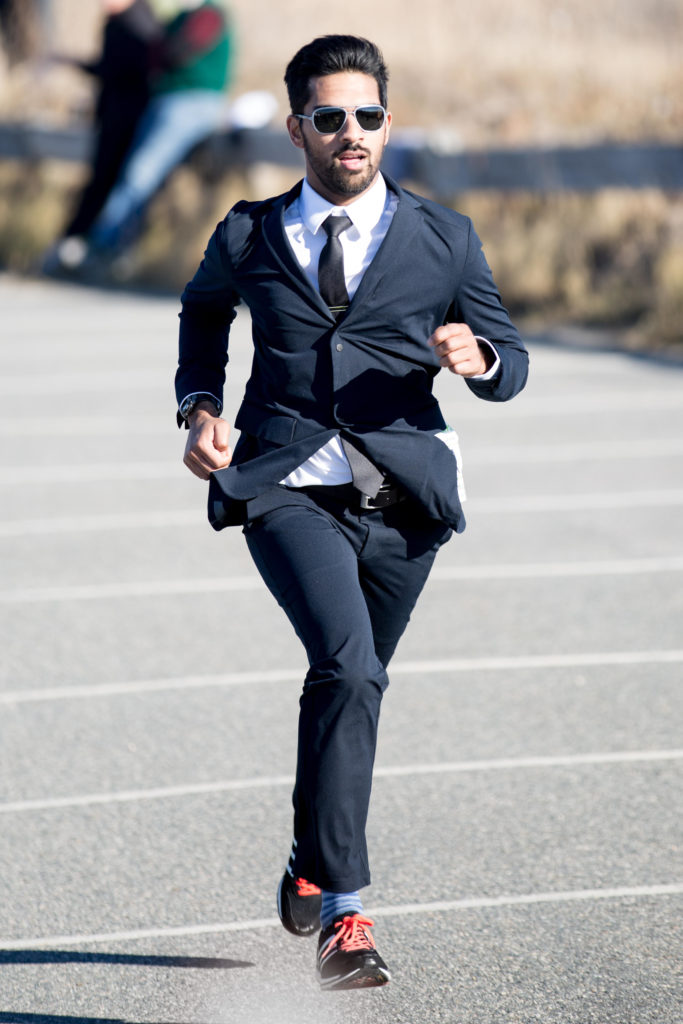 Q: What would you like to see your team accomplish in 2019?
We're always focused on creating scientifically better dress clothes. As we grow, we're focusing more and more on how we think about "better"—to include not only performance, but also the environmental impact of a garment. We do this in three ways:
Design: We focus on creating durable garments meant to last, over fast fashion. We're also dedicated to sustainable, ethical material sourcing – when we choose a new material, we take into account the production process, the care that's needed and what happens at the end of life.
Make: We utilize cutting-edge, on-demand manufacturing techniques, like 3D knitting, to eliminate the typical 30% fabric waste in typical cut-and-sew production. We also are very thoughtful about finding ways to cut down on carbon and water waste throughout production.
Sell: When you purchase clothing through our site, you can buy carbon offsets so your shipping is fully carbon neutral. Overall, all of our items are designed and promoted with a "capsule wardrobe" ethos in mind, so you have fewer, better items in your closet.
In 2019, as the world continues to experience the negative impact of climate change, we've renewed our focus on sustainability – making sure all of our products both perform better and are better for the world. We've got a few exciting launches coming up – we're looking forward to sharing them with the world soon.
Q: Who is your role model or hero?
David Kelley, founder of IDEO. He's responsible for bringing design thinking to the business world – which is instrumental in the design work I do everyday for Ministry of Supply.
Q: What is your favorite book?
The Way Things Work by David Macaulay. It's a kid's book, but I still love it – it simplifies the world into these beautiful illustrations of how things work paired with a fun narrative of woolly mammoths navigating their way through a world of machines. Timeless!
Q: Do you use any specific method or system to run daily operations?
We bring an MIT engineering mindset to apparel design – running our company more like a tech company than a fashion brand. By focusing on human-centered design and user feedback, we create garments that solve everyday wardrobe problems – and iterate quickly to improve. We have systemized this mindset with process called Quantified Empathy, in which we log and analyze every single piece of customer feedback and feed insights back into our product development cycle.
We also have an experimental arm, LABS, where we generate new cutting-edge garments in small batches, unveiling a new technology or manufacturing process. Our LABS program is similar to a concept car approach: we implement our most advanced and newest features, and closely engage with consumers about their feedback.
Q: Why did you choose your present industry at this time?
This industry essentially found me. Growing up, I was a Boy Scout – regularly hiking and camping – as well as a high school athlete, running cross-country and track. I remember noticing the difference I felt wearing heavy cotton t-shirts on a jog versus Nike Dri-Fit. I've always liked taking things apart to see how they worked, and I started to get inspired – thinking about how I could create better clothing and camping materials, and sewing my own gear at home. I even went dumpster diving to get Tyvek to create my own waterproof rain jackets.
I eventually went to MIT, where I studied engineering and delved further into my interest in hacking clothing to perform at its best. MIT is where I met my cofounder Aman, who was also redesigning his clothing for comfort and function, and we joined forces.
Q: What is the best/worst moment you can remember in your career?
Our launch on Kickstarter in 2012 was hugely validating for us as a young company. We had a really successful campaign to launch our signature product, the Apollo dress shirt. The funds we raised let us know there was serious demand for our product, and we set the record for funding raised by a fashion brand – it was amazing to be supported by such a passionate community.
While the success felt great, we soon found ourselves in over our heads – our supply chain that was designed to produce 400 shirts / month, now needed to scale to produce 8,000 shirts. We were switching factories, milling with a new factory for the first time, and seemingly everything that could go wrong did wrong – leading to thousands of returns and exchanges.
It was a stressful time, but we hunkered down and worked with a technical designer to rebuild our product from the ground up – and then we encouraged customers to exchange their shirts for newer editions. This meant we were able to build a base of several thousand loyal customers who stuck with us as we grew – we're incredibly grateful for that.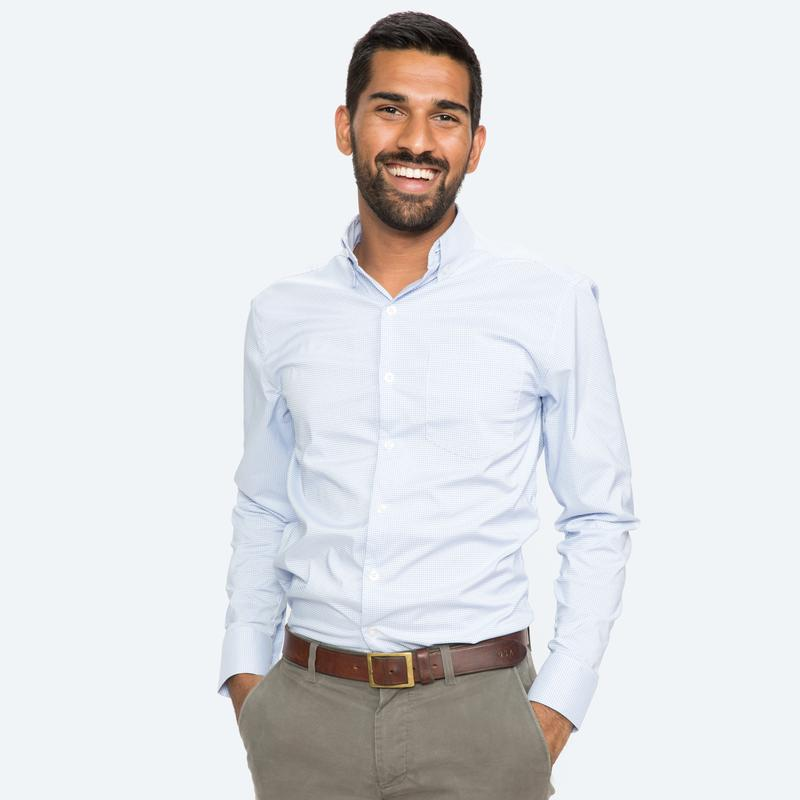 Q: Looking back – if you could advise a younger version of yourself to do something different – what would it be?
In college, I was lucky enough to learn from the best engineers in the country. But there are some things you can't learn in school. The importance of teamwork is the biggest lesson I'd advise my past self. It's important to find your counterpart – someone who complements the unique strengths you bring to the table and can be the manager to your maker. I've realized I cannot do everything on my own, and the success of our company is, and will continue to be, the direct result of the work we do as a team.
Follow on Twitter: @MinistrySupply
Follow on Instagram: @gihan.amarasiriwardena