Sailaja is the CEO and founder of Bharat Babies, a children's publishing house that helps families diversify their bookshelves, one story at a time.
It wasn't until she was pregnant with her first child that she realized there was such a huge diversity gap in children's literature. Refusing to live in a world where her child would not see herself on the cover of a book, Sailaja took matters into her own hands and started Bharat Babies with just $1,000 of seed capital. Founded in 2014, they have bootstrapped the funding to produce 13 children's books, across four product categories with several additional books slated for release over the next two years.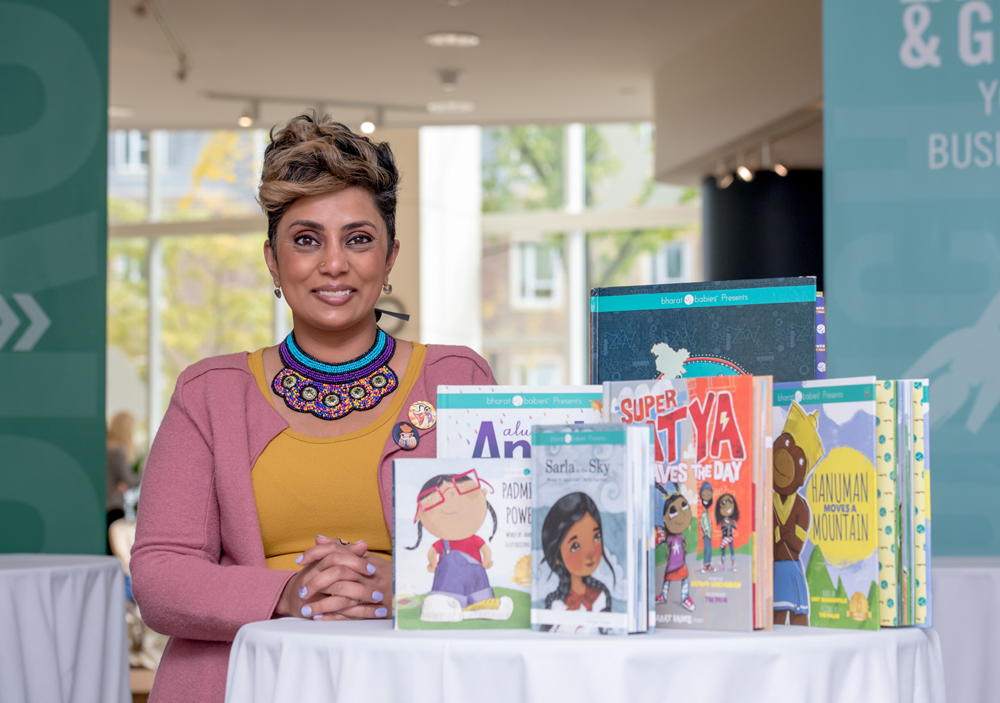 Q: What would you like to see your team accomplish in 2019?
I would like to see my team change the world. No, that's too proud and broad. Or actually, on second thought, not too proud. I truly believe that there is so much power in children's literature to create meaningful conversations about diversity at a young age, and this will change the world!
Q: Who is your role model or hero?
This is a tough question-I don't really have one person in mind. I have always had an entrepreneurial spirit. I am so inspired and encouraged by other entrepreneurs who see something that needs to change and create a solution for that problem. I love reading about others who are doing their part to change the world for the better! If I was pressed, I feel grateful to have incredible role models in my own family. From my mother, my father, and my sister, I deeply indebted for them to model what it means to be compassionate, kind, and driven by equality. For my husband, who has power with the written word and always models putting others before himself.
Q: What is your favorite book?
It depends on the day, but my top two are the Harry Potter series OR The Tao of Pooh. I'm also a huge fan of a Brave New World, anything by Balli Kaur Jaswal.
Q: Do you use any specific method or system to run daily operations?
Our team lives on Slack and Trello to keep us organized and communicating. We do a lot virtually, so these online tools are so essential.
Q: Why did you choose your present industry at this time?
When I saw the gap in diversity in children's literature, I knew that the world needed companies dedicated to shifting the landscape of children's literature. This inspired me to found Bharat Babies almost five years ago. I am so proud of our team for their hard work and dedication in bringing the stories of traditionally marginalized communities to the forefront of our bookshelves.
Q: What is the best/worst moment you can remember in your career?
So the worst is when our first board book came out from print and our name, Bharat Babies, was nowhere to be found! It was our first time creating something like this, and while it was a big mistake, it's something we learned from quickly and efficiently. The best memory? Is ALWAYS seeing children's faces light up when they see our books and see themselves. This is the best.
And the fact that my children will never have to live in the same reality that I did. They will be able to see themselves on the cover of books, and that's powerful.
Q: Looking back – if you could advise a younger version of yourself to do something different – what would it be?
To save my money. To write more. And to believe in myself.
Follow on Twitter: @sailajajoshi