Dark mode has become the newest must have feature for every app on the market. 'Apps with dark mode' is now a trending Google search query and a category of its own.
Why?
From a human to tech relationship, dark mode reduces eye fatigue and emits less blue light than the traditional "light mode". Americans spend an average of nine hours a day looking at computers, smartphones, and TVs. The majority of this time is spent looking at blue light emitting screens, known to cause eye strain and even insomnia. The bright blue light emitted by screens is perceived by our brains as sunlight, confusing the body's internal circadian rhythms and making it harder to fall asleep.
This eye strain isn't a big deal short term, but long term it can cause damage to the eye retina. Since we've only recently started using devices so often, we don't really know what the long term effects of looking at screens so often are going to be.
To combat the unknown, the dark mode feature has come to save the day.
Dark mode isn't perfect for everyone, but it certainly can help freelancers, entrepreneurs, and small business owners who spend the majority of their time on their phone or computer. As a productivity and communication app, Brief supports dark mode across all versions of the app (Desktop, iOS and Android) —but we know our app isn't the only one you're spending time on.
The bonus of the dark mode features is that it uses less energy and can keep your battery alive longer.
Here's a list of 15 apps with dark mode to save your eyesight and battery life.
Apps with Dark Mode For Productivity/Communication
#1: Brief
Brief is a productivity and communication app built for freelancers, entrepreneurs, and small businesses. What sets us apart from other productivity apps is that we don't want to give our users unnecessary bells and whistle, only the essentials needed to run their business effectively. Do you really need cat GIFs to scale your company? Brief has a minimalistic design and easy to use features to keep productivity, communication, and team management seamless and most importantly—focused. That's why Apple awarded us with their "Apps We Love" shoutout in both 2018 and 2019.
Part of staying focus is being able to work within an app for hours at a time. We rolled out Brief's dark mode feature so our users can maintain peak productivity without straining their eyes.
How To Set Up Dark Mode on Brief
Open the Brief app on your device
Click on Settings in the bottom the right-hand corner
Click on the toggle next to "Dark Mode"
#2: Facebook Messenger
With the rise of chatbots, marketers, customer service representatives, entrepreneurs, and business owners are spending more time in Facebook Messenger. As Facebook vyes for more ad space, they introduced Messenger campaigns to help businesses reach their customers in a new way on their platform. Businesses can create ad campaigns that let users opt-in to Facebook Messenger messages from the business by commenting on the campaign post.
It seems like Facebook are still toying around with the idea of dark mode, as the feature is only available as a hidden easter egg at this moment. You can hack your way to dark mode by sending a chat to a friend with a moon emoji. The feature isn't available unless you unlock it with this emoji. We're not sure what game Zuckerberg is playing, but we'll give you the intel to enable dark mode in Facebook Messenger.
How To Set Up Dark Mode on Facebook Messenger
Open the Facebook Messenger App on your device
Choose a friend to send a message to
Send the friend the 🌙 emoji
A notification will pop-up at the top of the chat that says "You Found Dark Mode!"
Click "Turn On In Settings"
Click the toggle next to "Dark Mode" to enable dark mode
#3: Slack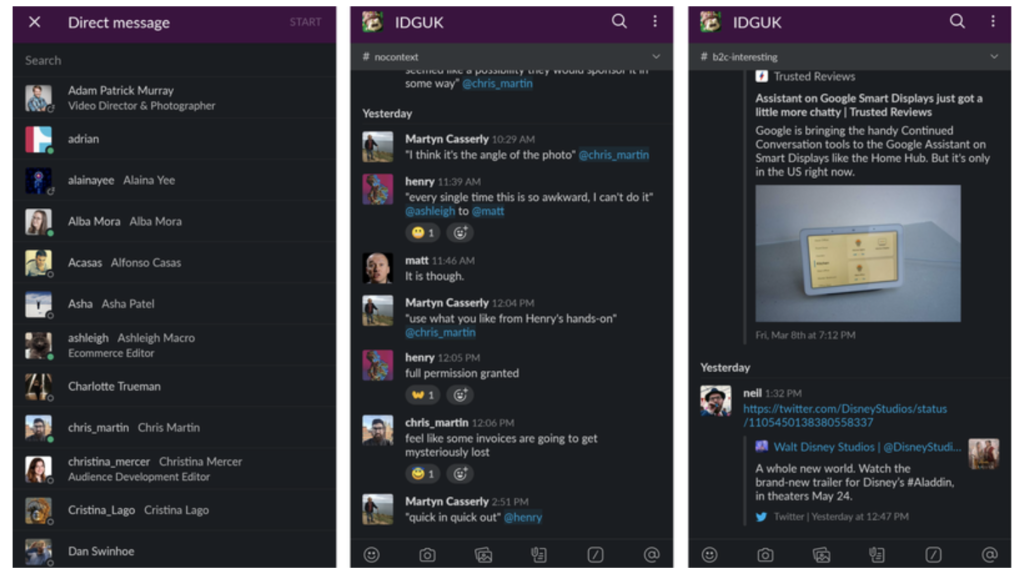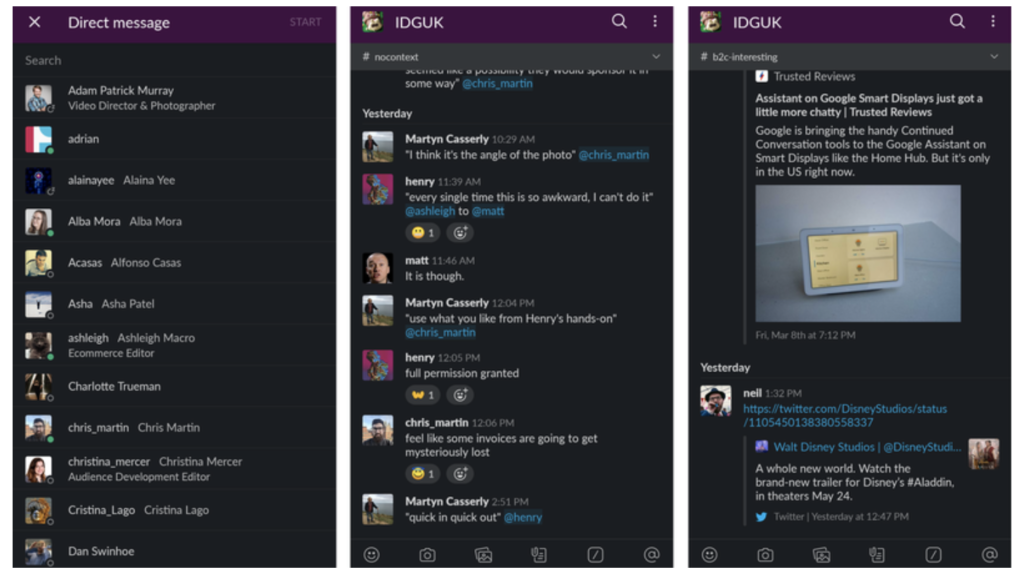 Slack is a popular communication platform for teams, working especially well for large corporations with big teams and large projects. The platform differs from Brief in its "louder" aesthetic. The app features GIFs and other integrations to make team chats a collaborative workspace where team members can work and be entertained. Each user joins channels, where they can see all of the past chats prior to being added and start collaborating with team members.
How To Set Up Dark Mode on Slack
Open the Slack App on your device
Open the sidebar
Click Settings
Click the Dark Mode toggle so it appears green with the white circle on the right-hand side of the toggle
#4: Gmail
Gmail currently has 1.8 billion users, which means that nearly one-seventh of the world's population has a Gmail account. On top of taking the crown for the most users of any email platform, Gmail offers marketers ad space inside their users' inboxes. If you're a Gmail user or a marketer frequenting the Gmail app, you can use dark mode to stay focused and avoid the harmful effects of light mode.
How To Set Up Dark Mode on Gmail
Open Gmail on your device
Click the gear icon in the top right-hand corner
Click Themes
Click on Dark Theme
#5: WhatsApp
WhatsApp is the world's most popular messaging app, with over 1.5 billion users every month globally. The free messaging app can be used to create group chats among family, friends and co-workers and to share photos and file. As far as using WhatsApp for your business goes, the downfall of using a personal messaging app is that scrolling for messages or sent links can be time-consuming and there isn't an option to effectively organize different groups in a way that makes sense. If you're looking for WhatsApp alternatives, find 10 WhatsApp Alternatives For Getting Things Done (Productivity Apps for Businesses).
WhatsApp doesn't have an official dark mode just yet, but it's Theme option does offer a useful hack that lets you get very close to the real deal.
How To Set Up Dark Mode on WhatsApp
Open WhatsApp on your device
Click on Settings
Click Chats
Click Chat Wallpaper
Click Solid Colors
Choose the dark grey color option
Click "Set"
Apps with Dark Mode For Social Media Marketing
#6: Medium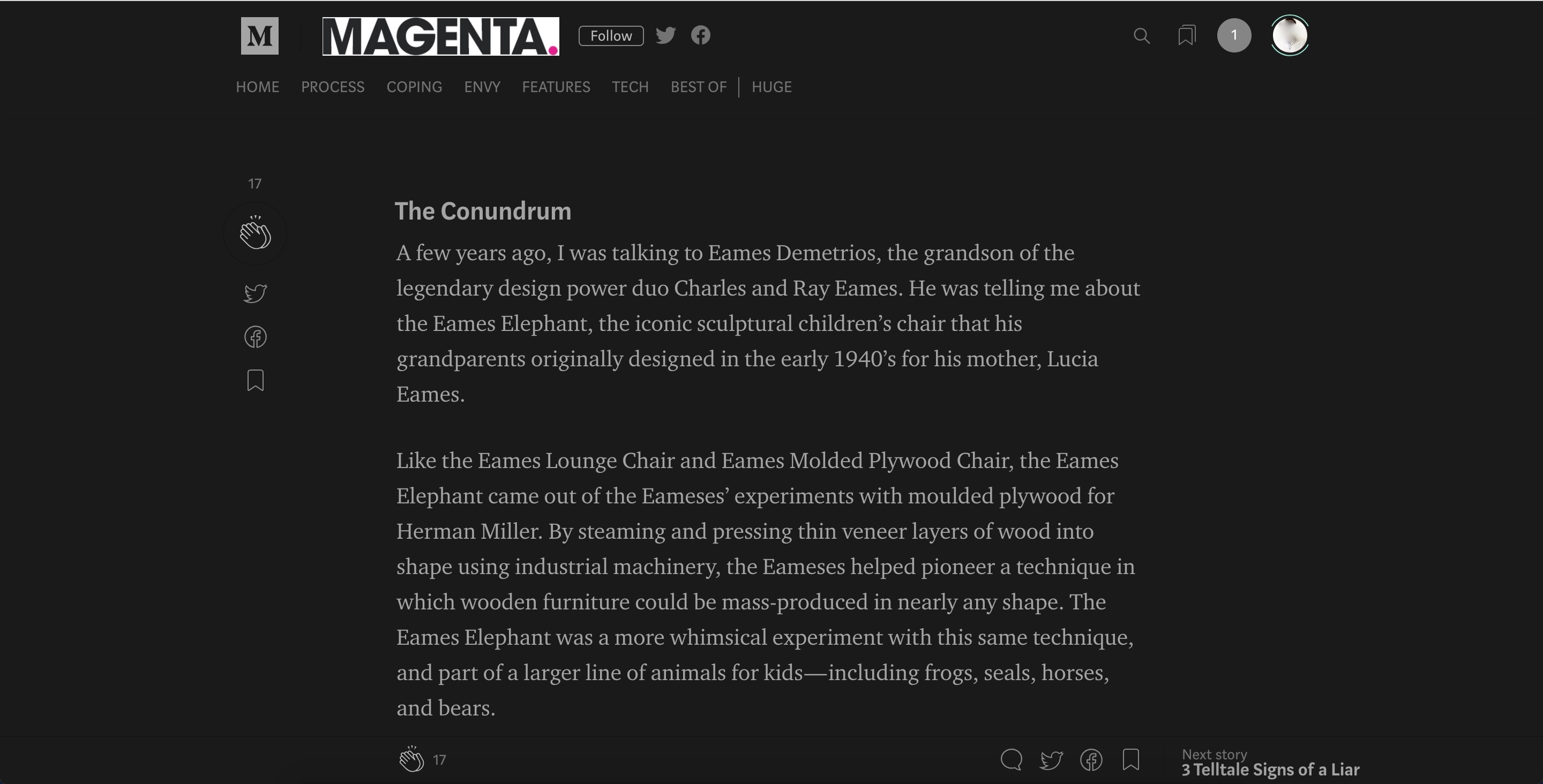 Medium is an authoring platform that gives anybody the opportunity to create an account and publish articles. The app was founded by Ev Williams, the co-founder of Twitter and has 60 million monthly users. Each month, 4.5 million hours of articles are read by Medium users, which means the app was quick to launch their dark mode feature to give their users the best reading experience possible.
How To Set Up Dark Mode on Medium
Open the Medium app on your smartphone
Click on the Profile icon in the bottom right-hand corner
Click the toggle next to "Night Mode"
#7: Twitter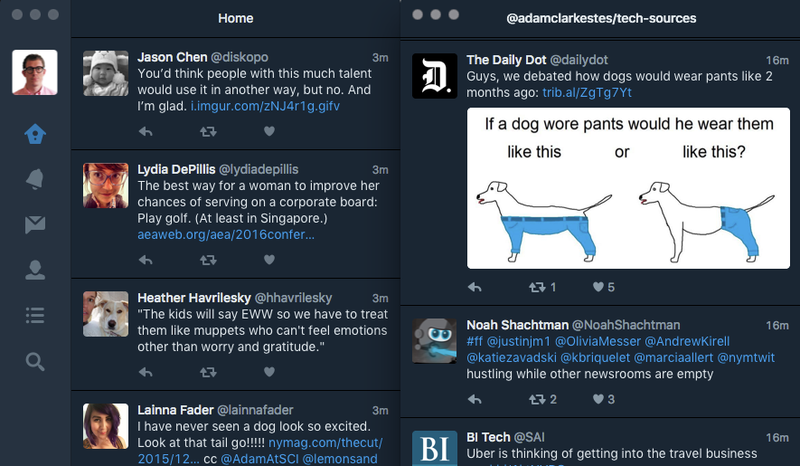 We know that you're already familiar with Twitter so we'll spare you the summary. Instead, we'll tell you about Twitter founder and CEO Jack Dorsey's productivity habit, highlighted in our article Prioritization: The Secret of Highly Effective People. Each day, Dorsey writes down a list of the top tasks he's prioritizing and every distraction that might keep him from completing those tasks. Then he asks himself three daily questions, such as "What truth did I discover?", "What am I grateful for?", and "Who did I help?". While you're thinking about how to integrate this prioritization strategy into your workflow, you can turn on Twitter dark mode by using the instructions below.
How To Set Up Dark Mode on Twitter
Open Twitter on your device
Tap your profile in the top left
Tap "Settings and privacy"
Tap Display and sound under the "General" section
Click the toggle next to "Dark Mode"
#8: Youtube
The average Youtube mobile viewing session lasts for more than forty-minutes. As Youtube has become an educational platform for freelancers, entrepreneurs, and small business owners the app has only risen higher in its social media reign. Business owners can learn how to start, run, and scale a business without paying for an Ivy League education—or at this point—even a Masterclass. Service businesses use the app as a tool to showcase their products and show users how they can benefit from them, like Brief did in this video. If you're a frequent user of Youtube University, use dark mode to save yourself from the harmful effects of screen time.
How To Set Up Dark Mode on Youtube
Open the Youtube app on your device
Click on your profile picture in the top right-hand corner
Click on Settings
Click the toggle next to "Dark Theme" under the "Youtube" section
#9: Reddit
Reddit, despite seeming like a "niche" website, is one of the most visited websites on the Internet. In March 2019, Reddit had 542 million monthly visitors and ranked as the sixth most visited website in the US. It's also a marketing tool used by savvy marketers who find the Reddit corner their niche is spending time in and slyly market their products and services without getting caught by moderators. Whether you're scrolling through "Shower Thoughts" or learning how to generate more leads, here's how to use Reddit dark mode.
How To Set Up Dark Mode on Reddit
Open Reddit on your website browser
Click on your username in the top right-hand corner
Click on the toggle for "Night Mode" in the drop-down menu
Apps with Dark Mode for Personal Use
#10: Safari
Safari is the official Apple web browser that comes installed on all Mac computers. Mac users can also use Chrome and Firefox by downloading the apps in the app store. Here's how to enable dark mode on Safari and Chrome.
How To Set Up Dark Mode On Safari
Click on the Apple icon in the top left-hand corner of the screen
Click on "System Preferences"
Click on "General"
Click on "Dark" to the right of "Appearance"
Additionally, users that updated their Mac to the latest macOS Mojave can control the appearance of Safari and other official Apple apps by going to System Preferences -> General and switching to Dark Mode globally in the top of the page.
Dark mode for Chrome is currently only available for mac OS, but is rumored to come to PC in the near future.
#11: iBooks
iBooks is Apple's ebook reading platform. The app gives readers more options than the standard light mode and dark mode. The color options to choose from are a white background, a sepia (beige) background, a light grey background, and a black background (dark mode). You can easily toggle between colors depending on where you are reading and the easiest color to read for the light environment you're in. Here is how you can turn on dark mode on iBooks, or choose from any of the above background colors.
How To Set Up Dark Mode on iBooks
Open iBooks on your device
Click on a book in your Library
Click on the screen to get the Top Menu bar to appear
Click on the aA icon
Choose the background color underneath the "Font" selection
Choose the black circle on the right for Dark Mode
#12: Kindle
Kindle, Amazon's ebook reading platform, also has a light mode and dark mode feature to give users the best experience when spending a long time reading on their device. The dark mode feature of these reading apps is particularly important when you look at the amount of time spent reading. If a chapter takes fifteen minutes to read and you read three chapters on your phone, you'll have spent forty-five minutes looking into a light mode device. To avoid unnecessary eyestrain and save battery life, you can turn dark mode on Kindle by following these instructions.
How To Set Up Dark Mode on Kindle
Open Kindle on your device
Click on a book in your library
Click on the aA icon
Click on Color
Click Black in the drop-down menu to enable Dark Mode
#13: Simplenote
Simplenote is a popular note app with features like, search, tags, note sharing, note online publishing, backup, and Markdown support. The app is free to use and updates all of your devices so your notes are readily available whenever and wherever you need access to them. Freelancers and entrepreneurs can use the note app to keep track of articles they want to read in the future, daily to-do list tasks, ideas, etc..
How To Set Up Dark Mode on Simplenote
Open the Simplenote app on your device
Click on View
Click on Theme
Click on Dark in the top menu to turn on Dark Mode
#14: Google Maps
Unlike the iOS Map app that comes installed on iPhones, Google Maps gives users the option to switch to dark mode during the day. The installed iOS Map App will switch to dark mode at night, but doesn't give users the flexibility to turn on dark mode when they choose. Google Maps switches to dark mode automatically once the sun sets in your city but you have the option to turn the mode on earlier in the day if you choose.
How To Set Up Dark Mode on Google Maps
Open the Google Maps app on your device
Click on the Menu button (three horizontal lines)
Click Settings
Click Navigation Settings
Go to the "Map Display" section and click on "Night" color scheme
#15: Waze
Waze is a popular social navigation app that was acquired by Google. Unlike the iOS Map app and Google Maps, Waze is a collaborative map that promotes users to tag locations so other users can avoid traffic, cameras, or police trying to catch people speeding. Each user can tag a location with traffic, a police car, a car crash, any hazard, a traffic camera, or a closure. As you drive, the app will show an icon in the location of the tag. For example, if there is an upcoming police officer, the app will have a police officer tag in the location of the cop.
The app also tells you nearby gas prices. Freelancers or business owners who spend time driving to clients can use the app to get advice and tips from other Waze users about road conditions.
How To Set Up Dark Mode on Waze Maps
Open the Waze app on your device
Click on the magnifying glass icon in the bottom left-hand corner
Click on the gear icon in the top right-hand corner
Click on "Map Display"
Click on "Night' next to the "Mode" toggles
Using dark mode is a battery saver, but it can also potentially reduce eye strain and insomnia. Without knowing the effects of this much screen time, entrepreneurs and freelancers need to be careful of how often they are spending time on devices. Since we are all for the hustle, we're not telling you to stop working so much but we will advise that you find apps that feature dark mode and use it as often as you can to avoid the potentially permanent effects of blue light.
These productivity, communication, social media, and personal use apps can reduce the amount of time you spend in "light mode" and keep you from suffering from the negative effects of overexposure to blue light.