Ever since we launched Brief, many of our users who are small business owners, freelancers or consultants successfully used Brief to collaborate with their clients. At the same time, we kept hearing the same feedback again and again:
I want to use a tool like Brief with my clients, but I can't. People just don't want to create an account, download an app and learn how to use it. I can't force my clients to do that.
This pain point definitely resonated with us. From the get-go, we wanted Brief to be simple and to combine multiple functions (team chat, task manager, file sharing and video conference) in one tool. As a business owner or team lead, you want to be able to collaborate effectively with people outside your organization (clients, partners, suppliers…) without burdening them with account creation and complicated software.
But what if you didn't need to create an account? What if instead of downloading an app, you could collaborate with anyone instantly – on any device with a modern web browser? What if instead of lengthy tutorials and complicated interfaces, you share a workspace so simple and intuitive, it requires virtually no introduction?
One-click collaboration with Brief Instant
Armed with this knowledge, that's exactly what we built. Brief Instant lets you invite guests to your existing Brief team hubs. These guests will not need to create a Brief account (although they are welcome to do so at any point). They won't need to download an app – they can just click the link, enter their name and boom, they're in.
Brief Instant gives you the flexibility of working with people outside your organization in a safe and controlled way. Simply share one link and you can chat, exchange files and track tasks with people both inside and outside your company. Easy, fast and secure.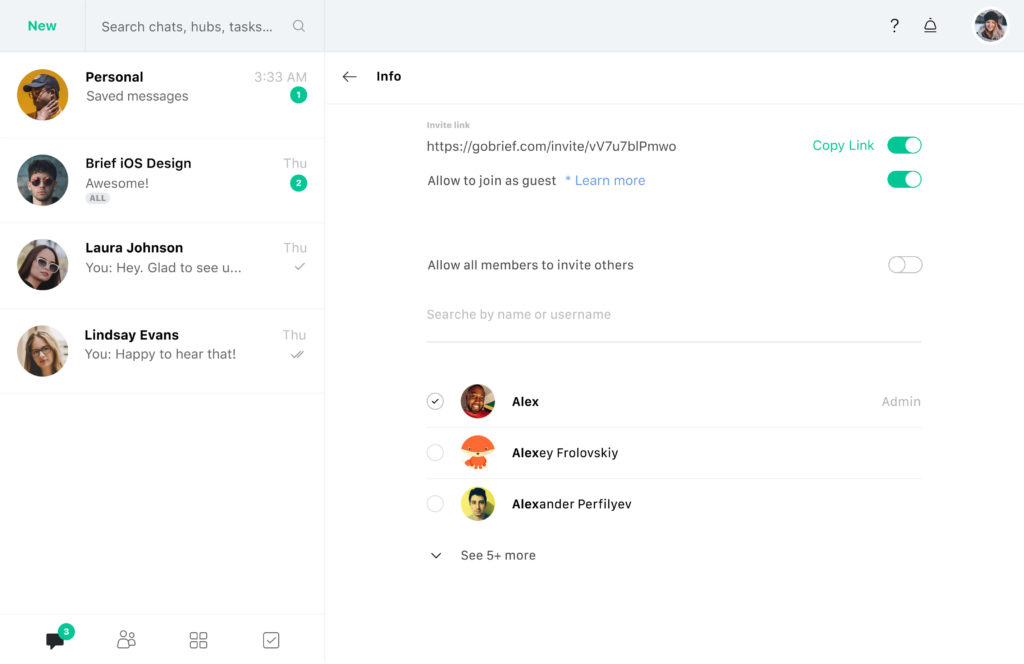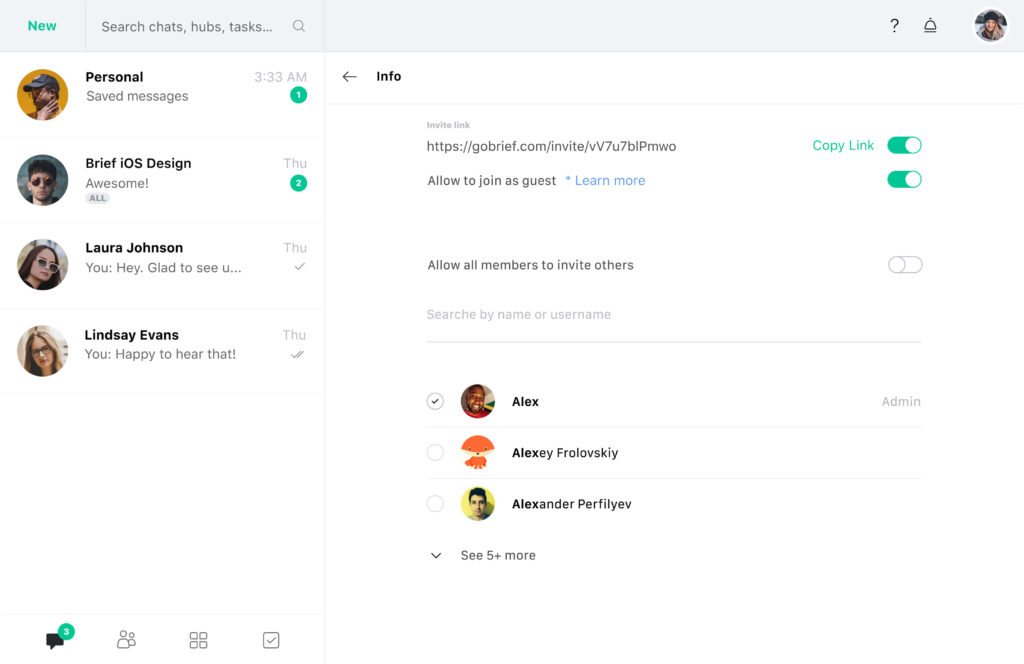 How do I use Brief Instant?
You can generate a Brief Instant link for any team hub you create in Brief. Currently, we only allow creating Instant links on the Web or Desktop (Mac/Windows) versions of Brief.
Click on the green 'Add Members' icon on the top-right corner of your Team Hub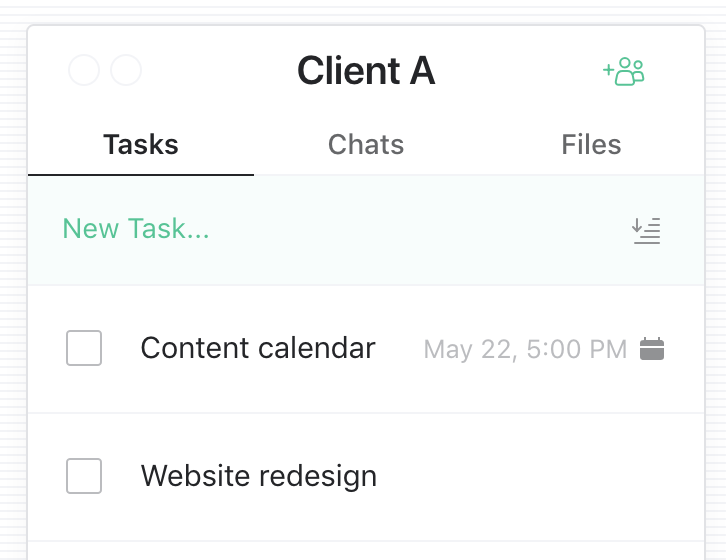 2. Turn on both the "Invite Link" and "Allow to join as guest" toggles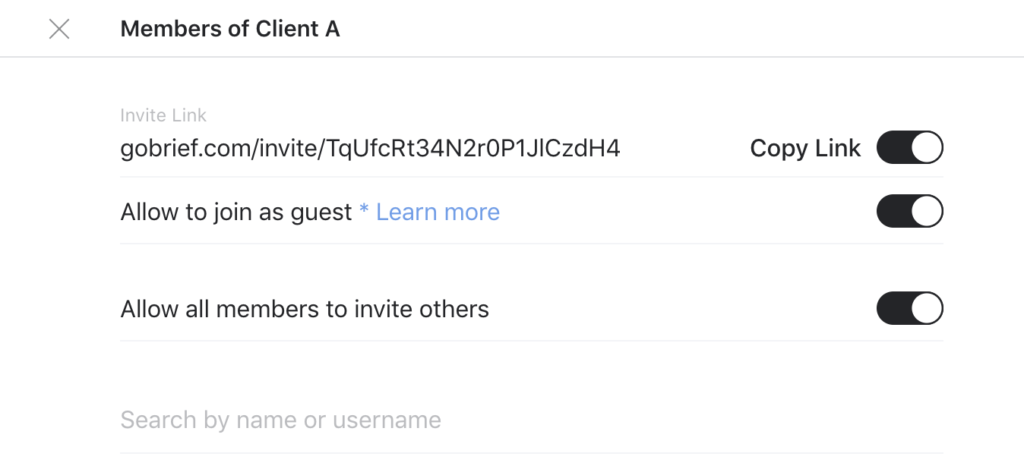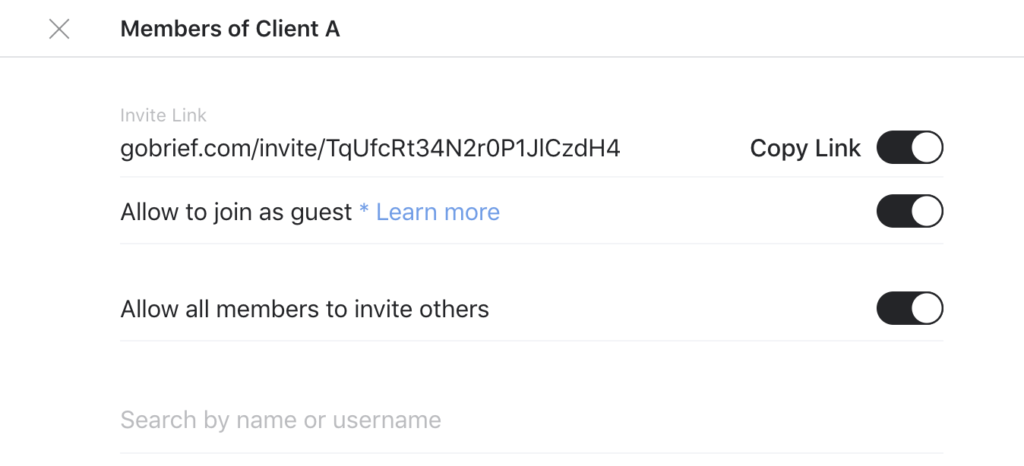 3. Copy the invite link and share it with external clients, partners or suppliers.
4. Done! They will now be able to collaborate with you on any device, with no registration or setup needed.
Tell us what you think
We're incredibly excited to launch the Brief Instant feature and we want to ensure that our users love it. If you have any questions, feedback or requests about Brief Instant or any other part of Brief, do not hesitate to contact us directly on Brief or over email.