When it comes to online communication apps for businesses, Slack tends to find itself at the top of the pile. Since its launch, Slack has attracted millions of users from different companies of all shapes and sizes.
In essence, Slack's success rests upon a simple idea: creating a platform to facilitate communication between team members.
Although Slack has made a name for itself due to its immense popularity, is it really the best tool on the market? Are there any other apps better than it? Let's find out.
Rocket Chat is an open-source alternative to Slack, meaning that the chat interface is entirely customizable – with a little background knowledge in programming. Slack's interface is fixed in its design and layout, making Rocket Chat a unique and flexible alternative.
Furthermore, Rocket Chat provides many features that aren't available on Slack. These include:
The ability to host audio and video conferences
Live-chat features for websites
Themes, branding and white label installation packages
Screen sharing
An intuitive UI
Pros
Fully-customisable interface
Unique features
Cons
Requires some knowledge in programming to utilize fully
2. Microsoft Teams
Previously, Microsoft Teams was only accessible to those already paying a subscription for Office 365. Now, though, a version of Teams is available to users entirely for free. There are, of course, some limitations to the free version, but it still offers a wide range of useful features.
One of these is the ability to send unlimited messaging. Slack restricts teams to 10,000 messages, but these limits aren't present in Teams. There is also an extensive range of integrative applications, of which you can add 140 to free subscriptions.
The only downside is that its sign-up process can be a little confusing to new users. In comparison to the advantages, though, this isn't much of a disadvantage – just something to be wary of.
Pros
Easy to use
Wide range of integrations
Cons
Restricted to Office 365 apps
Come on – we couldn't write an article about Slack alternatives and miss ourselves out, could we?
One project-management tool that you might wish to consider using is Brief. Brief is a simple, user-friendly platform that enables teams to communicate with ease.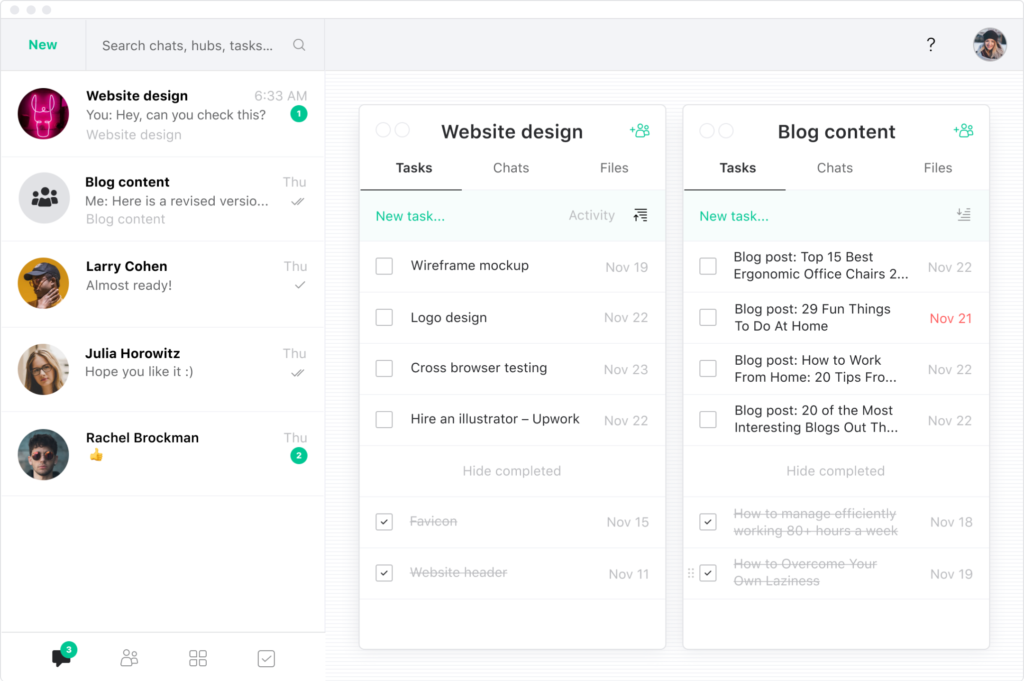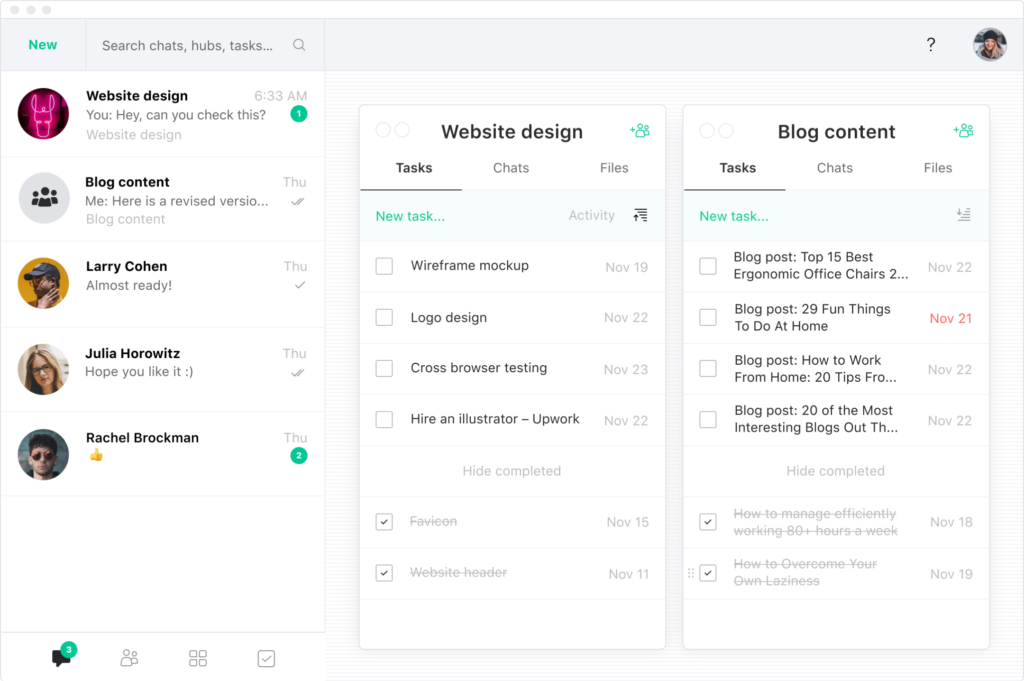 With features including video chat, team chat, to-do lists, file sharing, storage and team hubs, Brief works to streamline the time-consuming processes that distract us from important company duties.
Best of all, Brief is a completely free tool that can be used by both small and large teams to facilitate work and maximize efficiency.
Zulip has been referred to as the 'world's most productive team chat.' It's an open-source messaging tool that provides several unique features that its competitors don't.
For one, it offers a clean and intuitive user interface. More than that, though, Zulip offers many other features, such as markdown functions, inline images, and videos and security credentials, as well as options for integrations which can enhance team productivity.
Another helpful Zulip feature is its nested topics. Nested topics allow users to subscribe to Zulip Streams, similar to Slack channels, and navigate individual topic threats. These streams help to keep Zulip chats from overflowing and maximize efficiency.
Pros
Intuitive, easy-to-use interface
Unique features like markdown functions
Cons
Very similar to Slack
Bitrix24 is another Slack alternative ideal for smaller teams looking to integrate project management into their chat. It's been described as one of the best project management tools on the market and features a number of premium Slack components too.
Unique in comparison to other tools, Bitrix24 also provides integrations for social media, task and project management, as well as a wealth of others such as email, team calendars, and document management.
Pros
Integrations for social media
Team calendar features
Cons
Not suited to larger teams
Again ideal for smaller teams, Chanty allows us to 10 team members to utilize 10 integrations, as well as unlimited chat for both public and private discussion. Chanty also offers searchable history and integrated productivity tools, as well as an impressive 20GB of storage for teams.
Chanty is a handy instant messaging tool, combining many premium Slack features and offering them for free.
Pros
Up to 10 integrations
Public and private discussion
Cons
Only allows up to 10 team members
Fleep is a useful team messaging client with a specific focus on integration. It operates slightly differently to Slack, which is excellent for single teams, by allowing you to reach out and discuss things with other people and companies without leaving its interface.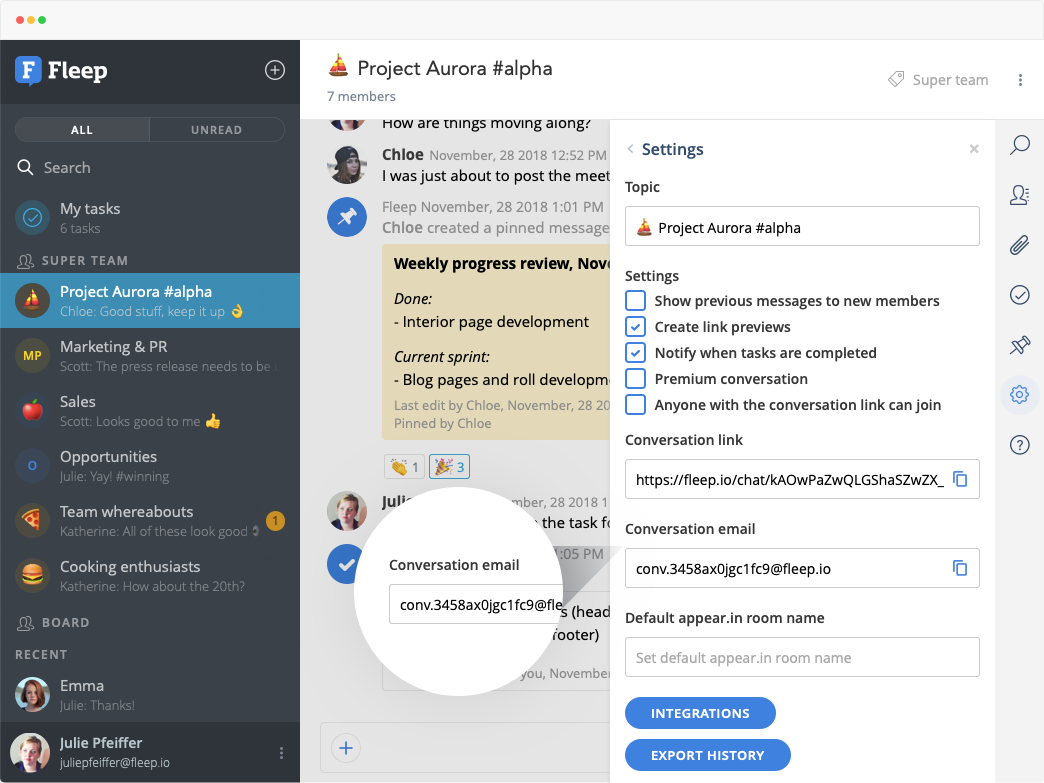 Pros
Great integration features
Cons
Not ideal for multiple teams
Another open-source client, Mattermost, is a self-hosted Slack alternative. It can be hosted on a server, too, enabling you to use its features entirely for free.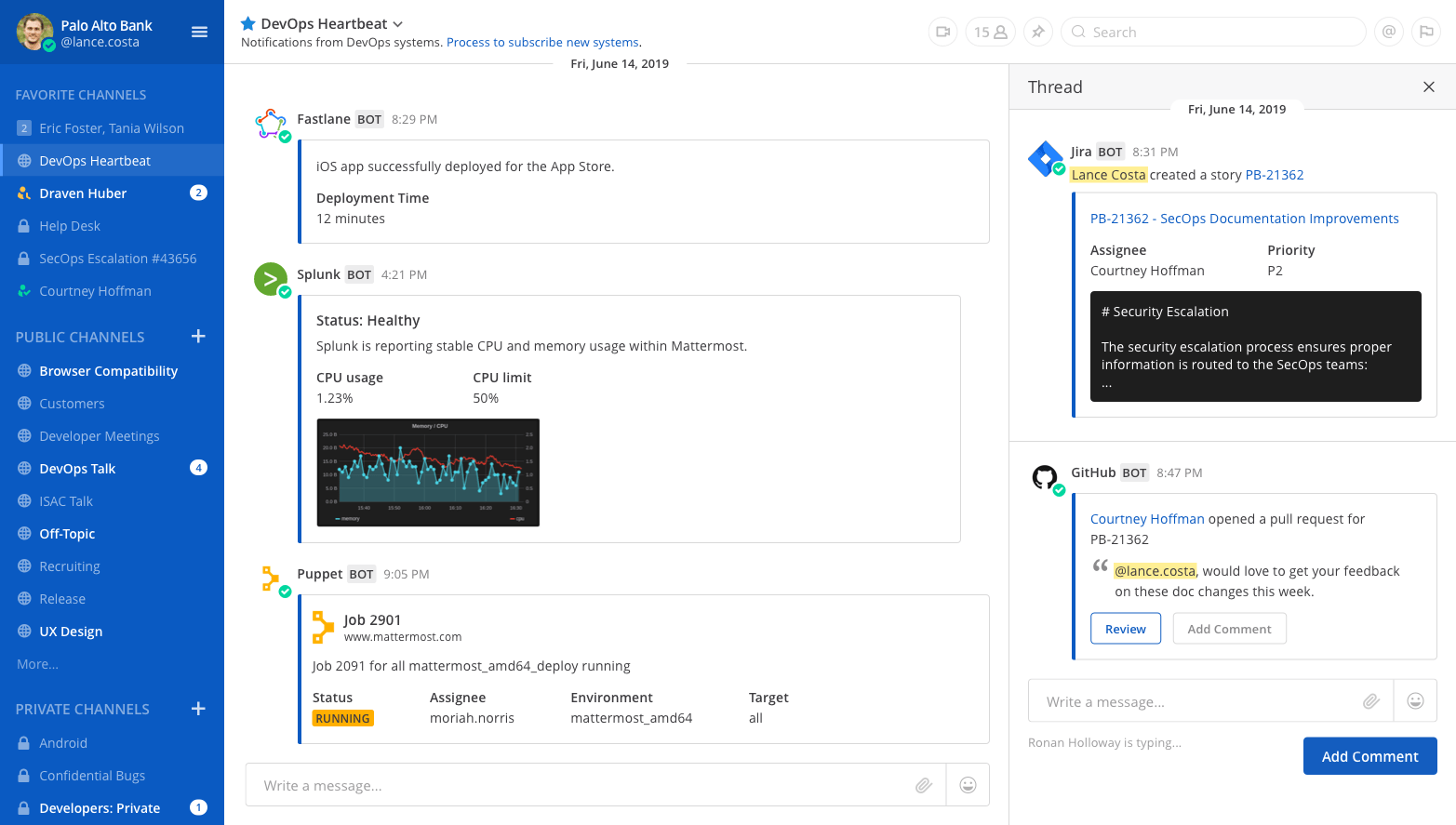 Mattermost is a secure option when it comes to team management, supporting end-to-end encryption. It also offers an impressive 400+ integrations which can be added without limit. It can, therefore, be used to maximize team efficiency and suit its requirements.
Pros
More than 400 integrations available
Completely free
Cons
Self-hosted and requires a server
9. Google Hangouts
Last on this list is Google Hangouts. While Hangouts doesn't offer quite as many features as Slack, it's a great option if your company focuses on video messaging and conference calls as a means of communication.
Hangouts is particularly handy if your company already makes use of Google Drive-based apps, such as Docs or Sheets. Moreover, Hangouts can be integrated into tools such as ZenDesk, UberConference, and HipChat, making it a strong option if your team makes use of multiple different tools.
Pros
Simple, user-friendly interface
Perfect for teams that operate using Google Drive apps
Cons
Limited range of integrations
Which Slack Alternative is Best?
There's no doubt that Slack is an incredibly useful tool that can be used for a range of different projects. That doesn't mean there's no reason to search around for alternatives, though, and making use of the alternatives on this list will ensure that your team has everything it needs.
In some cases, you may even discover that you can make use of more features by using a combination of different tools and their unique features.
If you prefer more of an open-source approach to team management, whereby you're able to customise your interface fully, a tool such as Rocket Chat might be your best bet. If you need a tool that enables you to manage your work, output, and team all in one, while working to increase your overall productivity in the workplace, Brief is the best choice for you.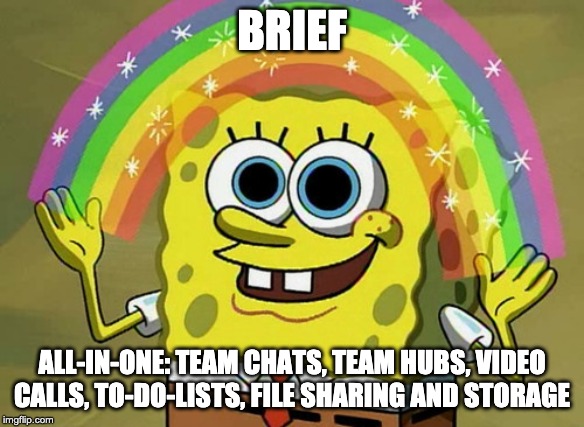 It's always best to consider the requirements of your team and then check to see if your free Slack subscription covers your needs. That way, you can ensure that whatever decision you make is best for you and your team.
Did we miss something? Comment below with any questions!