Catherine vanVonno is the President and CEO of 20four7VA, one of the fastest-growing virtual staffing companies in the eCommerce industry.
Catherine holds a Master's degree in Industrial-Organizational Psychology and a Ph.D. in Research and Evaluation Methods with a cognate in Applied Statistics. Before starting her remote staffing business, Catherine was a trailblazer in the healthcare management industry, leading teams of researchers in developing cutting-edge health policies and programs designed to improve the health of chronically ill populations. She also worked with private insurance companies and congressional leaders to provide data-driven healthcare reform strategies.
Today, Catherine focuses on two things: (1) helping small business owners scale their businesses without going into debt and (2) helping talented individuals from disadvantaged parts of the world find good jobs with honest, caring clients.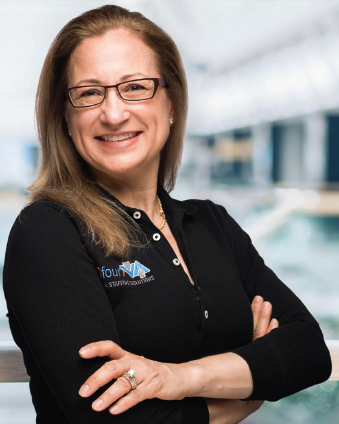 Q: What would you like to see your team accomplish in 2019?
There's a lot going on at 20four7VA right now. I'm excited to see my team working on business expansion, establishing our brand and our services within new verticals, and developing new tools and services that will make life easier for our VAs and clients. Our marketing team is deploying new and exciting campaigns to engage our audience, and we're doing a lot of research into how we can better support our community of VAs.
Q: What were the most challenging areas in the early stages of the company's growth?
I feel very strongly about mutual respect between our VAs and clients. So, in the beginning, we had to think hard about how to set up systems and policies to ensure that everyone — VAs and clients alike — will thrive and receive the quality of service that they deserve at 20four7VA.
Q: Who is your role model or hero?
My grandmother. This may sound cliché, but I never needed to look further than my own family to find a strong woman to look up to.
Q: What is your favorite book?
I love Nicholas Sparks' novels. If I had to pick one, it would be "A Walk to Remember." I'm a true romantic at heart.
Q: Do you use any specific method or system to run daily operations?
I work with a team of 30+ staff members — all of them working remotely. Because we're scattered across the globe, we rely on a variety of tools to stay in contact and to collaborate more efficiently. We use Skype and Zoom for meetings, brainstorming sessions, and general chitchat. For project management, we use Trello. The whole company uses GSuite for file sharing and storage, calendars, and email.
Q: Why did you choose your present industry at this time?
I didn't choose the industry; I more or less fell into it. About 10 years ago, I decided to join my husband in establishing a small business that immediately took off. We needed to hire assistants for this business and, taking a leap of faith, decided to hire virtual workers from the popular outsourcing platforms at the time. Unfortunately, we soon learned that those platforms were unreliable. Out of frustration, we decided to train our team of VAs. And it worked great!
We happened to have friends who also needed VAs, and they started asking us how we did it. I immediately saw the value of providing our fellow business owners with access to outsourced remote workers. So we developed our systems for finding, vetting, training, and monitoring virtual assistants. Profit was never my motivation. Instead, my goal was to build a trustworthy company that would benefit both business owners and offshore workers.
Q: What is the best/worst moment you can remember in your career?
BEST: Retiring from my office job and achieving success in a home-based career.
WORST: Stage fright in a room of predominantly male executives.
Q: Looking back – if you could advise a younger version of yourself to do something different – what would it be?
Take more chances. Stop apologizing for everything. Don't be afraid of embarrassment! If I had known then what I know now, I'd be light years ahead of where I am today. It's all about goal setting and creating a pathway to reach those goals. Stop being your own worst enemy and stop the excuses. Stop drowning in other people's opinions or perceptions of who you are and start taking ownership of your dreams, hopes, and desires. Don't define yourself in the light of others (e.g., mother, daughter, wife). Learn to own who you are, what you want to be, and make it happen!