Geoffrey Michener is a serial entrepreneur with over ten years of experience solving complex problems in the big data, small business, and enterprise space.
His passion for helping small businesses was sparked during my time studying abroad in Nicaragua and working in restaurants throughout high school, college, and grad school.
The idea for dataPlor came to me when I was working on another data startup. I realized the potential of untapped data that exists in emerging markets and how improved access to hyperlocal data could benefit companies operating in these markets.

Geoffrey Michener, founder of dataPlor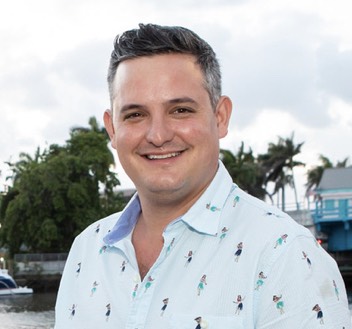 Q: What would you like to see your team accomplish in 2019?
The dataPlor team is closing 2019 with a lot of wins and hard work. Looking ahead to 2020, we are focused on building our client portfolio and providing clients with data that enables them to work smarter, not harder. As our client base grows, we will expand our network of local explorers, continuing to provide high paying work and support their local economies. Finally, we are looking to expand our geographic footprint to Southeast Asia and additional countries in Latin America.
Q: What were the most challenging areas in the early stages of the company's growth?
Building the right team and going to market with an MVP or alpha product is incredibly challenging for a new company. Working at an early-stage startup is thrilling, stimulating, and really difficult. It's not for everyone, so it's critical to bring together a mix of people who are adept at managing uncertainty and being productive with minimal structure. At the same time, we were building a team, we were selling dataPlor to companies, from venture-backed startups to Fortune 500.
People understood and immediately were on board with our mission; however, closing those first deals with a product barely out of alpha wasn't always easy.
Q: Who is your role model or hero?
Since reading The Mystery of Capital I've been intrigued by many of the ideas presented by its author Hernando De Soto Polar regarding capital and creation of a thriving economy. I'm not aligned with all of his ideas, but his approach on effective distribution of wealth surrounding property rights has inspired me. His economic ideas have been praised by leaders, including former US Presidents Bill Clinton and George H. W. Bush.
Q: What is your favorite book?
The Mystery of Capital, published in 2000, is my top choice as his ideas around economic prosperity and property ownership remain relevant today.
Q: Do you use any specific method or system to run daily operations?
My system is being present and engaged so I can effectively prioritize issues and daily tasks. Having led startups in the past, my instinct is well developed to assess what is urgent and what can wait. My team is skilled in prioritizing client issues and concerns, escalating to me when necessary. Regular communication with our explorers is also critical to our operational success. We place a premium on the service and value they provide and are available to address any roadblocks or issues they encounter.
Q: Why did you choose your present industry at this time?
Data has always been an area of interest for me. My last two startups focused on small businesses and data, and at my previous company, I was intrigued about the potential. Consulting with my mentors, a number of them mentioned the challenges and opportunities of small business data in emerging markets. I immediately saw the value in creating a service that curates and validates data from small businesses in emerging markets and provides that information to larger companies. We've seen with our clients how highly accurate data converts from 10% success in lead generation to a 90% success rate.
Q: What is the best/worst moment you can remember in your career?
My last company, also a startup, ultimately didn't work, and we had to shut it down. While it's not unusual in this world, it was a very tough experience for me personally and professionally. I came away from that experience humbled and wiser. Having been through the end of a company, our recent investment milestone of US $2M from investors and mentors, people who believe in the dataPlor vision, was a career highlight.
Q: Looking back – if you could advise a younger version of yourself to do something different – what would it be?
It's been said many times because it's true, "Don't sweat the small stuff." When you are full speed ahead, juggling multiple tasks, it's essential to take a moment and remember the big picture. Things are going to go wrong; products will have bugs, and clients will be frustrated. The key is to remain focused on forward momentum, two steps forward one step back, you are still ahead.