Paul Ronto is the CMO at RunRepeat, the world's largest athletic footwear review site.
He's worked in digital marketing for over a decade and has held a variety of positions from copywriter, SEO, social media and communications coordinator, marketing and growth director, and account executive in a large agency setting. His industry experience includes work with hyper-growth-stage SaaS startups, non-profits, $20B multi-national companies, and dozens of SMBs across the nation. He's passionate about helping businesses connect with their consumers and grow to the next level.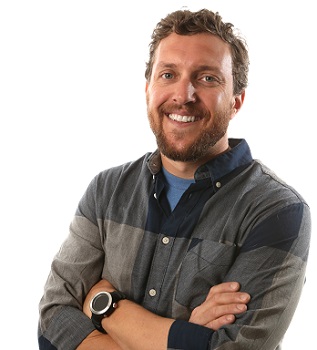 Q: What would you like to see your team accomplish in 2019?
I'll try to keep this somewhat short. I'd love to see our marketing team double in size from 5 to 10. One of our KPIs is value of inbound links, and I'd like to see a $50K month.
I'd also really like to see our team refine our processes to cut wasted time spent on poor performing content ideas. Ultimately, the marketing team is here to support the rest of the company, so I would be happy with continued growth and ensuring more consumers have access to our technology, our real value is helping consumers find the right athletic footwear at the absolute best price, something that almost everyone out there can benefit from.
Q: Who is your role model or hero?
Yvon Chouinard, Paul Jarvis, Steven Rinella.
Q: What is your favorite book?
Again, there are so many that it's tough to pick just one. I guess the couple that have had the biggest impact on me have been The Lean Startup and High Output Management.
Q: Do you use any specific method or system to run daily operations?
My team is highly independent, so we don't have a lot of processes, but I do believe in agile methodology in business, and I believe that shipping a product is more important than perfection. I think that consumers will help correct things that are wrong, be it content, physical products, UX, or anything to do with the business. Doing is better than planning, and I encourage my team to experiment and test rather than dot every I or cross every T.
Q: Why did you choose your present industry at this time?
I like helping consumers find the right products for their needs, and athletic footwear is something almost everyone uses. The average American buys 7 pairs of shoes a year, so there's a big need for a better process in this industry since it's so repetitive, and there are so many options out there to confuse the consumer.
Q: What is the best/worst moment you can remember in your career?
The worst moment is easy; my whole team was laid off from a job I loved in the non-profit sector. The ED didn't see the value in marketing and cut the whole team. It still resent that decision since it's a classic analogy for how marketing teams tend to be viewed in poorly run companies around the world, that they are a waste of resources, and don't have good ROI. The problem is that unlike operations or product or development, marketing results can be less tangible at times and harder to track. It's really easy to see the traffic dip when all of marketing is turned off, but it's hard at times to see the bump as new initiatives are slowly rolled out.
The best moment was probably landing my current position, it's the culmination of 10 years of work in this field, and although the company is young, I get to play an integral part in its growth, I get to work from anywhere in the world, and I get to work with amazing people from cultures I've never been exposed to. The wealth of ideas and processes when working for a diverse team like ours truly is fantastic.
Q: Looking back – if you could advise a younger version of yourself to do something different – what would it be?
I'd tell myself to let go of perfection. Being rigid on how things need to be done kills creativity, and perfectionism is part of that. The joy of life comes from the little surprises we see every day and being strict on process or strict on when something ships doesn't allow for surprises.
A lot of learning happens too when you allow mistakes to be made or unusual paths to be taken, so I think I would advise my younger self to go with the flow a bit more, see where it leads, and not always try to drive every result. I know that sounds super counter-intuitive coming from someone in a leadership position and someone with an entrepreneurial spirit, most people in my position got to where they are because they were aggressive and pushed for their vision, but a lot of burn out can happen with that method, and you only get one shot at this life, so I think slowing down a bit and seeing the journey as the destination is something that can really lead to meaningful gains, both in work and in life.