Most employees and organizations worldwide are accustomed to the 5/40 (9 to 5) work arrangement that creates a typical 40-hour workweek.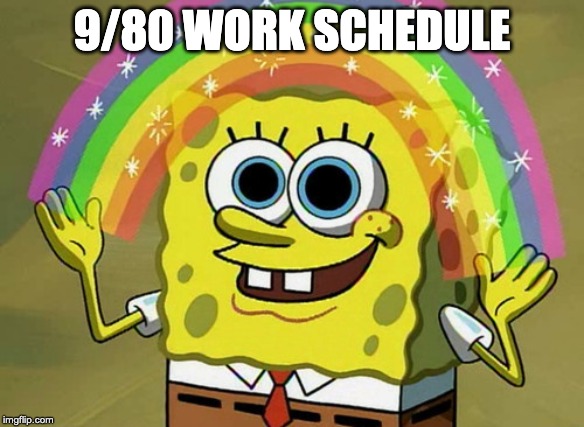 With increasing awareness of the importance of work-life balance, various organizations are systematically moving away from the traditional 5/40 workweek. Many companies are increasingly embracing more flexible work arrangements, supported by innovative team collaboration tools like Brief. And the 9/80 is one of the flexible systems of work that are growing in popularity.
What is the 9/80 work schedule?
9/80 work schedule is a work arrangement that condenses work cycles into two-week periods. Within each of these two-week periods, employees work a total of eight 9-hour days and one 8-hour day, then take one day off. After that, another cycle begins. 
Typically, people observing the 9/80 schedule work for 9 hours a day, for four days within the first week, and 8 hours on the final day of the week. The 8-hour workday (typically last day of the first week) is split into two 4-hour periods. The first 4-hour period marks the end of the first workweek. The next 4-hour period starts the subsequent workweek.
The individual then works four more 9-hour days during the second workweek, then takes one day off.
This way, the first workweek consists of four 9-hour workdays and one 4-hour workday. The second workweek equally consists of a single 4-hour workday followed by four 9-hour workdays. Then there is a day off, marking the end of the two-week work cycle.
Notice that the first and second 4-hour workdays often fall on the same day; one in the morning and the other in the afternoon. This frequently falls on the Friday of the first workweek.
The second workweek usually consists of four 9-hour workdays and an off-day.
So, under the 9/80 work arrangement, the first workweek ideally ends on the first Friday midday, with the second workweek starting afternoon the same Friday. This is what ensures each of the two workweeks consists of the legal 40 hours. And, the employer does not have any overtime wages to pay.
Breakdown of a typical 9/80 workweek 1
Monday: employee works 9 hours
Tuesday: employee works 9 hours
Wednesday: employee works 9 hours
Thursday: employee works 9 hours
Friday: employee works 4 hours the morning
Breakdown of a typical 9/80 workweek 2
Friday: employee works 4 hours the afternoon (same Friday in workweek 1)
Monday: employee works 9 hours (after the first weekend)
Tuesday: employee works 9 hours
Wednesday: employee works 9 hours
Thursday: employee works 9 hours
On Friday, the employee takes the day off, culminating in a 3-day long weekend.
Handling holidays under the 9/80 Work Schedule
Holidays or how employees choose to take their days off affect the kind of holiday credit they get under a 9/80 work schedule. The holiday credit depends on whether the holiday falls on a regular 9-hour or 8-hour workday.
If there is a holiday on a 9-hour workday, the employee will get an 8-hour holiday credit plus an additional 1-hour credit of personal time off (PTO). In this case, the employee's time record will read 8 hours holiday and 1-hour vacation.
This rule, however, applies differently to sick time. If an employee takes sick leave on a 9-hour workday, nine hours are deducted from their sick leave reserve. If the sick leave falls on an 8-hour workday, however, there's a deduction of eight hours.
An employee also gets 8 hours off if a holiday falls on their scheduled day off. The employee must use these 8 hours within 12 months from the holiday.
Pitfalls in the 9/80 Work Schedule
Changes in the fixed off day or number of hours an employee works on their 4+4 alternating workday may affect the number of hours the employee registers per workweek. This can often result in overtime, which the employer must pay for at 1.5 times the rate of the hourly pay.
For instance, if a worker's usual alternating day is Friday, in case they are allowed to switch this day with their off day, the employee will be considered to have worked overtime. This is because the shift will result in the employee clocking more than 40 hours on one of the two workweeks.
It is therefore imperative to lay down clear guidelines for the 5/4/9 work plan to be followed without employee deviations. This way, the employer will not have to put up with hefty overtime wages.
Potential benefits of the 9/80 arrangements
The 9/80 work schedule, if followed correctly, can lead to increased employee engagement and productivity that positively impacts the company's bottom line.
The arrangement allows employees to get an extra day off every other week, which can result in improved work-life balance.
Because employees get a day off during a weekday, they can use the day to schedule important personal businesses that are traditionally unattainable on weekends. Such a personal business could be anything such as visiting government offices, a child's school, or even a financial services firm that only open on weekdays.
The workers can also enjoy more family time since they have a 3-days long weekend every other week.
Because the employee does not have to use up their paid time off on these activities, they are likely to be better rested and happier, with less likelihood of experiencing work burnout. Such employees are likely to relate better with customers and be more productive overall.
Bottom line
Not all businesses can work with the 9/80 arrangement. However, if your business is in a position to operate outside the traditional 9 to 5 schedule without repercussions, then you may want to give this flexible work schedule a try and start seeing your employees' productivity soar.